Lost in the Never Woods (CD-Audio)
Monday to Thursday 10AM to 7PM--Friday & Saturday 10AM to 8PM
--Open 11AM to 5PM on Sunday **Order online any time.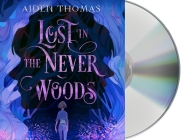 $50.99

Out of Stock - Unable to Order
Description
---
"There are moments of true tenderness, hope, and grief in this haunting, magical tale, and the narrator makes it all convincing. Teenage listeners will be drawn into this enchanting story." -- Booklist, starred review

When children start to go missing in the local woods, a teen girl must face her fears and a past she can't remember to rescue them in this atmospheric YA novel, Lost in the Never Woods from the author of Cemetery Boys.

It's been five years since Wendy and her two brothers went missing in the woods, but when the town's children start to disappear, the questions surrounding her brothers' mysterious circumstances are brought back into the light. Attempting to flee her past, Wendy almost runs over an unconscious boy lying in the middle of the road...

Peter, a boy she thought lived only in her stories, asks for Wendy's help to rescue the missing kids. But, in order to find them, Wendy must confront what's waiting for her in the woods.

A Macmillan Audio production from Swoon Reads

Praise for Aiden Thomas and Cemetery Boys:

"This stunning debut novel from Thomas is detailed, heart-rending, and immensely romantic." —Mark Oshiro, author of Anger is a Gift

"Aiden Thomas masterfully weaves a tale of family, friendships, and love in a heartwarming adventure full of affirmation and being your best self." — C.B. Lee, author of Not Your Sidekick
About the Author
---
Aiden Thomas is a trans, Latinx, New York Times Bestselling Author with an MFA in Creative Writing from Mills College. Originally from Oakland, California, they now make their home in Portland, OR. Aiden is notorious for not being able to guess the endings of books and movies, and organizes their bookshelves by color. Their books include Cemetery Boys and Lost in the Never Woods.
Praise For…
---
For Aiden Thomas and Cemetery Boys:

"This stunning debut novel from Thomas is detailed, heart-rending, and immensely romantic... Don't miss this book. " —Mark Oshiro, author of Anger is a Gift

"A story much bigger than the paper that binds it, Cemetery Boys is the tender intricacy we have all been waiting for." —Kayla Ancrum, author of The Wicker King