I Go Quiet (Hardcover)
*USPS shipping is taking up to 2-3 weeks instead of 2-7 days, please consider contactless Parking Lot Pickup if you are in the area.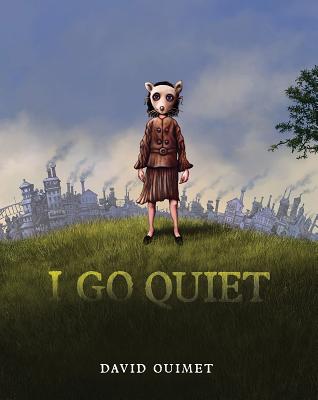 List Price: $18.95
Our Price: $17.06
(Save: $1.90 10%)
Staff Reviews
---
"I loved this book because it spoke to me. With ornate, steampunk influenced illustrations, Ouimet transmits how those who are quiet and different feel in a crowd, how those who speak softly don't always get heard, how they brace themselves to function in the world, and how one child finds a way to express their voice. This book is for the quiet ones and those who want to understand them. Picture book for kids ages 6–8."
Description
---
An introverted young girl finds her voice through reading and the power of imagination in this stunning debut picture book.
How do you find your voice, when no one seems to be listening? In David Ouimet's spellbinding debut, a young girl struggles to make herself heard, believing she is too insignificant and misunderstood to communicate with the people in her life.
Anxious about how she thinks she should look and speak, the girl stays silent, turning to books to transport her to a place where she is connected to the world, and where her words hold power. As she soon discovers, her imagination is not far from reality, and the girl realizes that when she is ready to be heard, her voice will ring loud and true.
Ouimet's stirring and haunting illustrations masterfully capture how it feels to be a lonely, self-conscious child unsure of how to claim a space in the world.
About the Author
---
David Ouimet is a New York–based artist and musician. He has illustrated several children's books and his work has appeared on album covers, in magazines, and in newspapers, including the New York Times.
Praise For…
---
A thought-provoking tale that is both tantalizing and timeless, where disquiet is dispelled through hope and sprouting confidence

Hauntingly beautiful.

Astonishingly beautiful… I wish this book had been around when I was a child: I would not have felt quite as alone.
— Neil Gaiman

A powerful book, about the intensity that can live behind silence; about the power of books and how they give us strength and knowledge to deal with the world in which we find ourselves. A wonder.
— Matt Haig

Stunning!... David Ouimet understands that to comfort means to strengthen, not to coddle. I want to send it back in time to my seven-year-old self.
— Stephen Fry

Completely original. Unique, in fact.
— Phillip Pullman