Tails Lift-the-Flap and More! (Paperback)
We strongly encourage all customers to wear a mask regardless of vaccination status. Masks are required for unvaccinated adults. Thank you!
Monday to Thursday 10AM to 7PM--Friday & Saturday 10AM to 8PM
--Open 11AM to 5PM on Sunday **Order online any time.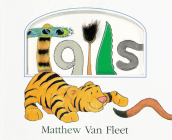 $14.99

Sold Out--Can order from warehouse
Description
---
Tails are irresistible to toddlers, and in this favorite sturdy touch-and-feel board book, preschool-age pokers and prodders can finally tug to their heart's content.
Engaging, cartoonish animals from tigers to pangolins romp across the pages as the rhyming text bounces along: "Tails fluffy, / Tails stringy, / Scaled tails strong and—clingy!"
Pull tabs, lift-able flaps, tufts of "fur," and even a scratch-and-sniff skunk tail provide plenty of tactile surprises. Along the way, youngsters will learn about counting, opposites, and how animals use their tails.
A tried and true tail-wagger!
About the Author
---
MATTHEW VAN FLEET has written and illustrated many books for children, including Fuzzy Yellow Ducklings, which has sold more than a million copies. He lives in Chappaqua, New York.
Praise For…
---
"Tails is every bit as well-designed as it is well-written and illustrated." — Amazon.com