Finders Creepers (Half Past Peculiar, Book 1) (Hardcover)
We are available Monday to Saturday 10:00 a.m. to 5:00 p.m. for Limited Browsing, Order Pickup, Phone Orders, and Contactless Parking Lot Pickup. Order online 24 hours a day.
**Free Local Area Delivery on Tuesday and Friday**
Please Note: Many of the high demand books that say 'On our Shelves Now' are on hold for other customers. You can place an order and we will let you know when they come back in stock. Thank you for your patience.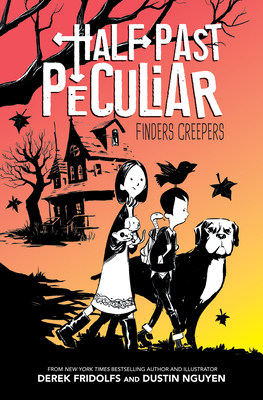 List Price: $14.99
Our Price: $13.49
(Save: $1.50 10%)
Description
---
Meet the Fetch Twins and their menagerie of pets as they unlock a mysterious portal to limitless worlds in this one of a kind series from the New York Times bestselling graphic novel team of Dustin Nguyen and Derek Fridolfs.
Twins Atticus and Esmeralda Fetch are the best pet finders in Thorns Hollow -- a town where people have a lot of pets, and those pets often get lost. But when a lost dog leads them to an old, Victorian house on the edge of town, the twins find their world turned upside down. This creepy house contains a portal that leads to a whole other world -- a world where mythical creatures like trolls, fairies, and dragons are real.

The secrets this mythical world contains are bigger than these kids could ever imagine. Secrets that could threaten to destroy the world as we know it. Now, Minerva, Atticus, and yes, their canine companion will have to work together if they want to save our world, and the world beyond the portal!

Using a mix of prose, artifacts, and comics, the Eisner Award-nominated and New York Times bestselling team of Derek Fridolfs and Dustin Nguyen creates a fantasy-based middle-grade series that's simultaneously eerie, very funny, and wondrously imaginative. With a mix of typeset pages, painted artifacts, and beautiful comics, pages this one of a kind novel is sure to spark the imaginations of readers everywhere.
About the Author
---
Derek Fridolfs is a New York Times bestselling author. With Dustin Nguyen, he cowrote the Eisner-nominated Batman: Li'l Gotham. He's also written and worked on such comics series as Batman: Arkham City Endgame with Paul Dini, Detective Comics, Legends of the Dark Knight, Adventures of Superman, Sensation Comics Featuring Wonder Woman, Catwoman, Zatanna, JLA, Justice League Beyond, and comics based on the cartoons for Adventure Time, Regular Show, Clarence, Pig Goat Banana Cricket, Dexter's Laboratory, Teenage Mutant Ninja Turtles, Teen Titans Go, Looney Tunes, and Scooby-Doo Where Are You! He's written several chapter books for Capstone based on the Justice League.

Dustin Nguyen is a New York Times bestselling and Eisner Award-winning American comics creator. His body of work includes Batman: Li'l Gotham, which he cocreated, and numerous DC, Marvel, Dark Horse, and Boom! titles along with DC Comics Secret Hero Society and Image Comics' Descender and Ascender, both of which he cocreated. He lives in California with his wife, Nicole; their two kids, Bradley and Kaeli; and dog, Max. His first children's picture book, titled What Is It?, was written by his wife (at the age of 10) and is their first collaboration together. He enjoys sleeping and driving.
Praise For…
---
Praise for Half Past Peculiar: Finders Creepers

"Quirkily tantalizing . . . begging for a sequel." - Kirkus