The Red Daughter: A Novel (Hardcover)
We will be closed on Saturday, July 4th in observance of Independence Day.
We are available Monday to Saturday 10:00 a.m. to 4:00 p.m. for Limited Browsing, Order Pickup, Phone Orders, and Contactless Parking Lot Pickup. Order online 24 hours a day.
**Free Local Area Delivery on Tuesday and Friday**
*USPS shipping is taking up to 2-3 weeks instead of 2-7 days, please consider contactless Parking Lot Pickup if you are in the area.
Please Note: Many of the high demand books that say 'On our Shelves Now' are on hold for other customers. We are hoping that they will be back in stock at the warehouse around the middle of June. Thank you for your patience.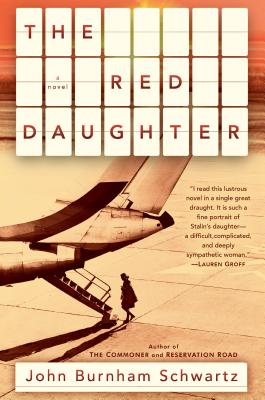 List Price: $26.00
Our Price: $23.40
(Save: $2.60 10%)
Hard to Find - Unable to Order
Staff Reviews
---
"A historical novel based on Stalin's daughter's defection to the West, The Red Daughter is a compelling read. I don't remember this historical event, but it was known around the world when it happened. Based on her journals and papers, the author intersperses journal entries to tell her story, and embellish it. He wrote the story after reading her obituary and realizing that a picture in his family home was of her and his father, and that his father was the one who clandestinely brought her into the United States."
Description
---
Running from her father's brutal legacy, Joseph Stalin's daughter defects to the United States during the turbulence of the 1960s. For fans of We Were the Lucky Ones and A Gentleman in Moscow, this sweeping historical novel and unexpected love story is inspired by the remarkable life of Svetlana Alliluyeva.

"The Red Daughter does exactly what good historical fiction should do: It sends you down the rabbit hole to read and learn more."—The New York Times Book Review

In one of the most momentous events of the Cold War, Svetlana Alliluyeva, the only daughter of the Soviet despot Joseph Stalin, abruptly abandoned her life in Moscow in 1967, arriving in New York to throngs of reporters and a nation hungry to hear her story. By her side is Peter Horvath, a young lawyer sent by the CIA to smuggle Svetlana into America.

She is a contradictory celebrity: charismatic and headstrong, lonely and haunted, excited and alienated by her adopted country's radically different society. Persuading herself that all she yearns for is a simple American life, she attempts to settle into a suburban existence in Princeton, New Jersey. But one day an invitation from the widow of the architect Frank Lloyd Wright arrives, and Svetlana impulsively joins her cultlike community at Taliesin West. When this dream ends in disillusionment, Svetlana reaches out to Peter, the one person who understands how the chains of her past still hold her prisoner. Their relationship changes and deepens, moving from America to England to the Soviet Union and back again, unfolding under the eyes of her CIA minders, and Svetlana's and Peter's private lives are no longer their own.

Novelist John Burnham Schwartz's father was in fact the young lawyer who escorted Svetlana Alliluyeva to the United States. Drawing upon private papers and years of extensive research, Schwartz imaginatively re-creates the story of an extraordinary, troubled woman's search for a new life and a place to belong, in the powerful, evocative prose that has made him an acclaimed author of literary and historical fiction.

Praise for The Red Daughter

"Svetlana Alliluyeva's life was endlessly fascinating, often heartbreaking, and ultimately heroic. I don't think any writer alive could have told her story more beautifully than John Burnham Schwartz."—David Benioff, co-creator of HBO's Game of Thrones and author of City of Thieves

"The Red Daughter is an intimate, intricate look at the collision of geopolitics with a private life: surprising and engaging from beginning to end."—Jennifer Egan
About the Author
---
John Burnham Schwartz is the bestselling author of five novels, including Northwest Corner, The Commoner, and Reservation Road, which was made into a film based on his screenplay. His books have been translated into twenty languages, and he has done extensive screen and television writing for the major Hollywood studios, including as screenwriter of HBO Films' The Wizard of Lies starring Robert De Niro and Michelle Pfeiffer, for which he was nominated for a 2018 Writers Guild of America Award for Outstanding Writing. Literary Director of the Sun Valley Writers' Conference, he lives in Brooklyn with his wife, writer Aleksandra Crapanzano, and their son, Garrick.
Praise For…
---
"The story, which captures the mysterious Svetlana through her imagined journal entries and letters, as well as Horvath's 'editor's notes,' is lively and engaging."—The New York Times Book Review

"John Burnham Schwartz has drawn such a fine and generous portrait of Stalin's daughter—a difficult, complicated, and deeply sympathetic woman—that I read his novel in a single great draught, and ever since have been worried about Svetlana as though she were a close and troubled friend of mine. The Red Daughter is a lustrous book."—Lauren Groff

"The Red Daughter is an intimate, intricate look at the collision of geopolitics with a private life: surprising and engaging from beginning to end."—Jennifer Egan

"The Red Daughter is one of those novels I wish I could have written, if only I were smarter. It's an act of literary resurrection, bringing Svetlana Alliluyeva back to life and liberating her from her father's shadow. In these pages we watch a broken human try to piece herself back together, again and again. Her life was endlessly fascinating, often heartbreaking, and ultimately heroic. I don't think any writer alive could have told her story more beautifully than John Burnham Schwartz."—David Benioff, co-creator of HBO's Game of Thrones and author of City of Thieves

"Like an old world alchemist, John Burnham Schwartz takes for his base elements a character who in real life was as famous as she was misunderstood, and he spins gold. We recognize something of ourselves in Svetlana's complicated and conflicted soul, and through her eyes we have a deeply insightful glimpse of an America that eludes us, but must be apparent to an outsider. The Red Daughter is brilliant, thoughtful, and beautifully imagined—a masterpiece by a writer at his best."—Abraham Verghese, author of My Own Country

"A woman is haunted by the sins of her father. Schwartz takes the extreme of that dilemma—not just any father: it's Joseph Stalin—and tells a powerful tale of one daughter's struggle to free herself and rewrite her own history."—Nancy Horan, author of Loving Frank

"Richly detailed . . . an insightful and compelling saga of a woman desperately trying to escape her infamous past ... Fact and fiction mingle seamlessly in a story of the defection and lonely wanderings of Josef Stalin's only daughter. "—Kirkus Reviews (starred review)

"In this gripping historical novel about the defection of Stalin's only daughter, Svetlana Alliluyeva, Schwartz explores the wider political context that sharpens private tragedy. . . . This lovely novel's strength is the aching portrait of Svetlana: 'not American, not Russian, neither this thing or that thing but always now between these things, which is the tragedy of my life.' Filled with historical details that enliven and ground the fictionalized elements, Schwartz's elegant novel captures the emotion and strain of Alliluyeva's second life in the U.S."—Publishers Weekly

"A perceptive exploration of identity, motherhood, and how one woman valiantly tried to shed the heavy mantle of her father's infamous legacy . . . Schwartz again demonstrates his adroitness at illustrating the troubled lives of high-profile twentieth-century women."—Booklist