Behind Closed Doors (Large Print / Hardcover)
We are available Monday to Saturday 10:00 a.m. to 5:00 p.m. for Limited Browsing, Order Pickup, Phone Orders, and Contactless Parking Lot Pickup. Order online 24 hours a day.
**Free Local Area Delivery on Tuesday and Friday**
*USPS shipping is taking up to 2-3 weeks instead of 2-7 days, please consider contactless Parking Lot Pickup if you are in the area.
Please Note: Many of the high demand books that say 'On our Shelves Now' are on hold for other customers. We are hoping that they will be back in stock at the warehouse around the middle of June. Thank you for your patience.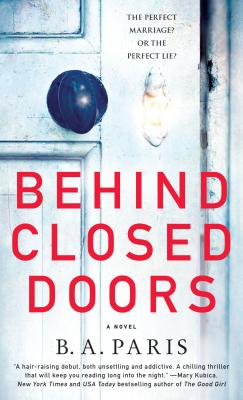 $40.69
Unavailable from Warehouse - May take longer to order
Staff Reviews
---
One of Sallie's 5 Favorite Books
August 2016 Indie Next List
---
"Jack is charming and handsome, but underneath his cool exterior is a brutal psychopath who thrives on terrifying others. His wife, Grace, found out too late that he is a monster who seeks to control everything she does. Even her sister, Millie, a handicapped young woman who depends on Grace, is part of Jack's vicious plan. Paris has crafted a riveting, intense tale that will keep readers on the edge of their seats until the last page."
— Stephanie Crowe (W), Page & Palette, Fairhope, AL
Description
---
The perfect marriage? Or the perfect lie?
The debut psychological thriller you can t miss
A hair-raising debut, both unsettling and addictive...A chilling thriller that will keep you reading long into the night. Mary Kubica, "New York Times" and "USA Today" bestselling author of "The Good Girl"
"This outstanding debut novel will leave you breathless." Bella
"Brilliant, chilling, scary and unputdownable." Lesley Pearse, bestselling author of "Without a Trace"
"This one is 2016's answer to Gone Girl. Nuff said." "W""omen's Health" UK
"You ll love this." "The Sun"

Everyone knows a couple like Jack and Grace. He has looks and wealth, she has charm and elegance. You might not want to like them, but you do.
You d like to get to know Grace better. But it's difficult, because you realise Jack and Grace are never apart.
Some might call this true love. Others might ask why Grace never answers the phone. Or how she can never meet for coffee, even though she doesn t work. How she can cook such elaborate meals but remain so slim. And why there are bars on one of the bedroom windows.

""Behind Closed Doors" gives us a glimpse into the realities of a "perfect marriage," with addictive and heart pounding moments guaranteed to have you looking at your friends and neighbours differently." Margaret Madden, Bleach House Library.