The Mighty Odds (The Odds Series #1) (Paperback)
*USPS shipping is taking up to 2-3 weeks instead of 2-7 days, please consider contactless Parking Lot Pickup if you are in the area.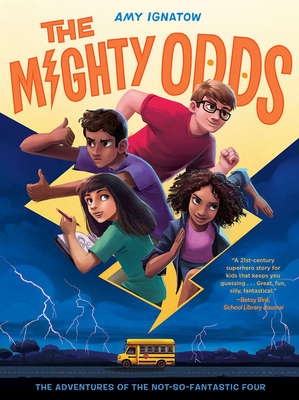 List Price: $8.99
Our Price: $8.09
(Save: $0.90 10%)
Not in bookstore--Can order from warehouse
Description
---
What do you get when you mix a sci-fi nerd, a cartoonist, a social outcast, and the most popular girl in school with a mysterious bus crash? Some very specific—and mighty odd—superpowers. Martina can change her eye color; Nick can teleport four inches to the left; Farshad can develop super strength, but only in his thumbs; and Cookie can read minds, when those minds are thinking about directions.

Starring a diverse group of kids, this series' multiple narrators make for a quirky, contemporary read that tackles identity and stereotypes. Praised widely, Ignatow's characters have been called "very real" by the New York Times and "completely convincing" by the New Yorker.

About the Author
---
Amy Ignatow is the author of the Popularity Papers series and the Odds series. She lives in Philadelphia with her husband and two kids, and on rare occasions she enjoys sleeping.