The Death of Mrs. Westaway (Large Print / Library Binding)
We are available Monday to Saturday 10:00 a.m. to 5:00 p.m. for Limited Browsing, Order Pickup, Phone Orders, and Contactless Parking Lot Pickup. Order online 24 hours a day.
**Free Local Area Delivery on Tuesday and Friday**
*USPS shipping is taking up to 2-3 weeks instead of 2-7 days, please consider contactless Parking Lot Pickup if you are in the area.
Please Note: Many of the high demand books that say 'On our Shelves Now' are on hold for other customers. We are hoping that they will be back in stock at the warehouse around the middle of June. Thank you for your patience.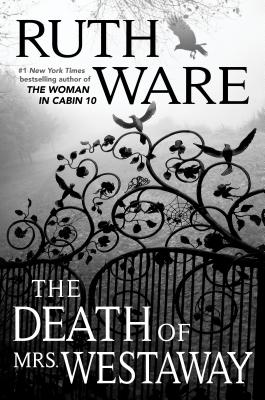 List Price: $37.99
Our Price: $34.19
(Save: $3.80 10%)
Out of Print - Unable to Order
Staff Reviews
---
"Ruth Ware's 4th thriller/mystery is just as quizzical and nail-biting as her other books. We're introduced to Harriet, Hal for short, who lives by herself in Brighton, who's not doing so well on her own after her mother was killed in a hit and run 3 years prior. Being only 21, Hal had to step into her mother's shoes as a tarot reader/psychic in order to make ends meet and she's taken by surprise when an inheritance letter arrives, just when she needs it (money) the most. But the grandmother who passed away isn't her grandmother...even though they share the same common last name, Westaway. Maybe there's another Harriot out there who it was meant for? Hal makes a very difficult decision to con her way through this inheritance deal which ends up sucking her into a complicated relationship of the real Westaway family. This story has all the makings of a good thriller, and plot thickens as Hal rushes to find out the mystery before she's found out herself. Even if you haven't read any of Ware's previous books, this is one you NEED to check out."
June 2018 Indie Next List
---
"Does Ruth Ware keep getting better and better? Yes, she does. A down-on-her-luck protagonist, a too-good-to-be-true inheritance, and a creepy old mansion combine for a deliciously suspenseful tale. The plucky heroine, Hal, believes she's mistakenly been identified as an heir to a great estate, but she decides to play along in the hopes of scamming a couple thousand pounds out of the situation. Once she's arrived at the reading of the will, she quickly realizes that she is in way over her head. This is a deceptive and suspense-riddled thrill ride!"
— Connie Brooks, Battenkill Books, Cambridge, NY
Description
---
From the #1 New York Times bestselling author of In a Dark, Dark Wood, The Woman in Cabin 10, and The Lying Game comes Ruth Ware's highly anticipated fourth novel. On a day that begins like any other, Hal receives a mysterious letter bequeathing her a substantial inheritance. She realizes very quickly that the letter was sent to the wrong person--but also that the cold-reading skills she's honed as a tarot card reader might help her claim the money. Soon, Hal finds herself at the funeral of the deceased...where it dawns on her that there is something very, very wrong about this strange situation and the inheritance at the center of it. Full of spellbinding menace and told in Ruth Ware's signature suspenseful style, this is an unputdownable thriller from the Agatha Christie of our time.