My Sister the Serial Killer (Large Print / Library Binding)
We are available Monday to Saturday 10:00 a.m. to 5:00 p.m. for Limited Browsing, Order Pickup, Phone Orders, and Contactless Parking Lot Pickup. Order online 24 hours a day.
**Free Local Area Delivery on Tuesday and Friday**
*USPS shipping is taking up to 2-3 weeks instead of 2-7 days, please consider contactless Parking Lot Pickup if you are in the area.
Please Note: Many of the high demand books that say 'On our Shelves Now' are on hold for other customers. You can place an order and we will let you know when they come back in stock. Thank you for your patience.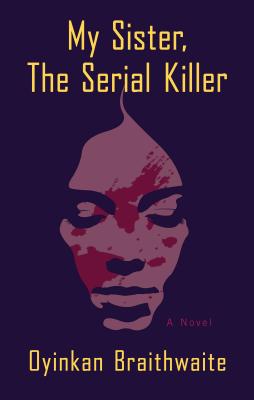 $34.09
Sold Out--Can order from warehouse
Staff Reviews
---
"My Sister the Serial Killer sums up its own plot in the title. The debut novel by Oyinkan Braithwaite centers on the lives of two sisters, one gorgeous and impetuous, the other solemn and overshadowed. Narrated by the latter, the story introduces us to the (sometimes darkly funny) heartbreak and frustrations that stem from having a serial killer in the family. While one woman lives her life without care, dating a string of men and casually disposing of them when she sees fit, her responsible older sister is left to literally clean up the mess and anticipate the consequences. Braithwaite paints a colorful and biting image of the ties that bind as the limits of sibling love are tested and the sisters discover who they really are, and how far they are willing to go for each other."
December 2018 Indie Next List
---
"My Sister, the Serial Killer is one of the best books to come along in quite a while — fast, funny, and completely engrossing. Oyinkan Braithwaite offers up a tale of Nigerian sisters Ayoola, a beautiful and sociopathic serial killer who destroys boyfriends, aware that all they ever want her for is her appearance, and Korede, a nurse whose average looks leave her continually passed up in preference for Ayoola. Still, taciturn and devoted Korede works hard to cover up her charming sister's crimes. What will happen when they both fall for the same guy? At once a page-turner and a perversely righteous tale about the emptiness of physical beauty and the superficiality of being charmed by it, My Sister, the Serial Killer is entertaining, provoking, and utterly fascinating!"
— Sarah Sorensen, Bookbug, Kalamazoo, MI
Winter 2019 Reading Group Indie Next List
---
"Who would have guessed that murder might actually be the least distressing part of Oyinkan Braithwaite's My Sister, the Serial Killer? Packed full of sibling rivalry, workplace drama, and family secrets, this wicked little stiletto of a tale bubbles with malice, served up Lagos-style. The one problem? Braithwaite's racing prose and vivid characters left me wanting a sequel."
— David Enyeart, Next Chapter Booksellers, St. Paul, MN
About the Author
---
Oyinkan Braithwaite is a graduate of Creative Writing and Law from Kingston University. Following her degree, she worked as an assistant editor at Kachifo, a Nigerian publishing house, and as a production manager at Ajapaworld, a children's educational and entertainment company. She now works as a freelance writer and editor. In 2014, she was shortlisted as a top-ten spoken-word artist in the Eko Poetry Slam, and in 2016 she was a finalist for the Commonwealth Short Story Prize. She lives in Lagos, Nigeria.