Stamped: Racism, Antiracism, and You: A Remix of the National Book Award-Winning Stamped from the Beginning (Large Print / Library Binding)
We are available Monday to Saturday 10:00 a.m. to 5:00 p.m. for Limited Browsing, Order Pickup, Phone Orders, and Contactless Parking Lot Pickup. Order online 24 hours a day.
**Free Local Area Delivery on Tuesday and Friday**
*USPS shipping is taking up to 2-3 weeks instead of 2-7 days, please consider contactless Parking Lot Pickup if you are in the area.
Please Note: Many of the high demand books that say 'On our Shelves Now' are on hold for other customers. We are hoping that they will be back in stock at the warehouse around the middle of June. Thank you for your patience.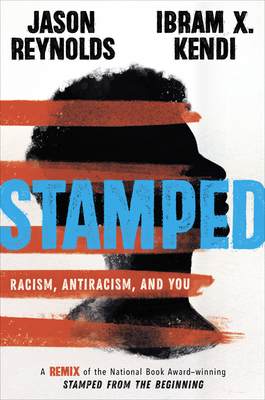 $27.49
Backordered - Unable to Order at this Time
Staff Reviews
---
"Jason Reynolds has taken Ibram X. Kendi's Stamped from the Beginning and made it accessible for young adults, or any adult, for that matter. It covers the history of racist ideas in America, and the hope for a better future using the concept of antiracism. An enlightening, clear-cut treatise on racism and antiracism, giving us a look at where we are and where we could be. This book is a great starting point for an understanding of racism in America."
Spring 2020 Kids Indie Next List
---
"This is a book about big ideas. Ideas that, in the past, have only been laid out and talked about by adults. Now, Jason Reynolds has taken those ideas and traced them clearly through history so they can be presented and understood by a younger audience. Today, everyone grows up in a world affected by racism, so everyone should be able to understand its origins and the ways it creeps into the world. In Stamped, Reynolds speaks directly to young readers to give them the tools to understand the many forms racism can take, how they came to be, and how to deal with them."
— Bryce Lucas, 57th Street Books, Chicago, IL
About the Author
---
Jason Reynolds is the New York Times bestselling author of many books, including When I Was the Greatest, Boy in the Black Suit, All American Boys (cowritten with Brendan Kiely), As Brave as You, For Every One, the Track series (Ghost, Patina, Sunny, and Lu), Long Way Down, and Look Both Ways. He is a National Book Award finalist; the recipient of a Newbery Honor, a Printz Honor, and multiple Coretta Scott King Honors; and the winner of a Kirkus Prize, two Walter Dean Myers Awards, and an NAACP Image Award, among other honors. He lives in Washington, D.C and invites you to visit him online at JasonWritesBooks.com. Ibram X. Kendi is the New York Times bestselling author of Stamped from the Beginning, which won the National Book Award for Nonfiction, The Black Campus Movement, which won the W.E.B. Du Bois Book Prize, and How to be an Antiracist. He is a professor of history and international relations and the founding director of the Antiracist Research and Policy Center at American University. One of America's leading antiracist voices and a frequent public speaker, Dr. Kendi is also a columnist at The Atlantic. He lives with his family in Washington, D.C. He invites you to visit him online at IbramXKendi.com.