Death Wins a Goldfish: Reflections from a Grim Reaper's Yearlong Sabbatical (Satire Book, Work Life Balance Book) (Hardcover)
We strongly encourage all customers to wear a mask regardless of vaccination status. Masks are required for unvaccinated adults. Thank you!
Monday to Thursday 10AM to 7PM--Friday & Saturday 10AM to 8PM
--Open 11AM to 5PM on Sunday **Order online any time.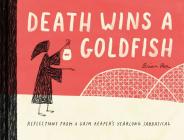 Description
---
Even Death cares about his work-life balance...
Death never takes a day off. Until he gets a letter from the HR department insisting he use up his accrued vacation time, that is. In this humorous and heartfelt book from beloved illustrator Brian Rea, readers take a peek at Death's journal entries as he documents his mandatory sabbatical in the world of the living. From sky diving to online dating, Death is determined to try it all!
Death Wins a Goldfish
is an important reminder to the overstressed, overworked, and overwhelmed that everyone—even Death—deserves a break once in a while.
If you enjoyed Brian Rea's work in Mary Karr's The Liars' Club: A Memoir or in the New York Times' popular Modern Love column you'll love his delightful illustrations of Death in this funny, heartfelt collection of works.
This book is a great gift or self-purchase if you're looking for:
Funny Books
Funny Comics
Humor Books
About the Author
---
Brian Rea lives in Los Angeles. He is an internationally exhibited artist and the official illustrator of the New York Times column "Modern Love."
Praise For…
---
"In Death Wins a Goldfish, Brian Rea illustrates his own story, a cheeky and charming and secretly profound variation on the 'Death Takes a Holiday' motif.… Through it all, Death keeps a journal, and the reader enjoys his increasingly existential musings on the meaning of life, the preciousness of personal time and the fact that this sweet dark comedy is actually a cautionary tale for any human who falls into the rat-race pressure trap of working too hard." —LA Weekly

"Death explores the magic and mundanity of life in this warmhearted vacation story. Having worked nonstop for entirely too long, Death is forced by the reapers' Human Resources department to take an extended holiday. He is intent upon using his time off to grow as a person, so he travels the world, enrolls in college, attends carnivals, and even gives dating apps a try. What he finds ranges from the utterly disappointing to the transcendentally joyous—but it is always and ever a testament to the value of encountering new things and people. Rea's work is rendered in warm, friendly hues: lemon meringue roller coasters and coral-colored speedboats predominate. Undergirding these cheerful shades is an earnest appeal to that most human of questions: how should one live? The answer, Death finds, is by going out there and doing it." —Publishers Weekly

"Brian Rea's Death Wins a Goldfish is not a book about death. It's a book about living." —VanityFair.com

"There's a lot of sweetness in Death's global journey, and while the character never speaks, Rea welcomes readers into its thoughts through journal entries, which show how Death gradually becomes more amiable and adventurous as it engages with new people, visits new places, and discovers new passions. A former New York Times art director and illustrator of the newspaper's 'Modern Love' column, Rea has a talent for capturing deep emotions in loose drawings, using bright colors and strong graphic composition to convey the expressions of a character whose face is a gray circle." —The A.V. Club

"An absolutely delightful book, Death Wins a Goldfish will have you rethinking your life choices and actually help you make the most of your life. Of the many books I have reviewed this year, this one has to be my absolute favorite." —GeekDad

"Charming, warm-hearted, and funny" —NPR.org