Mythos (Stephen Fry's Greek Myths #1) (Hardcover)
We will be closed on Saturday, July 4th in observance of Independence Day.
We are available Monday to Saturday 10:00 a.m. to 4:00 p.m. for Limited Browsing, Order Pickup, Phone Orders, and Contactless Parking Lot Pickup. Order online 24 hours a day.
**Free Local Area Delivery on Tuesday and Friday**
*USPS shipping is taking up to 2-3 weeks instead of 2-7 days, please consider contactless Parking Lot Pickup if you are in the area.
Please Note: Many of the high demand books that say 'On our Shelves Now' are on hold for other customers. We are hoping that they will be back in stock at the warehouse around the middle of June. Thank you for your patience.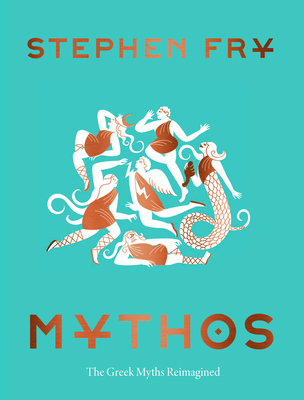 List Price: $29.95
Our Price: $26.96
(Save: $3.00 10%)
Description
---
Mythos is a modern collection of Greek myths, stylishly retold by legendary writer, actor, and comedian Stephen Fry. Fry transforms the adventures of Zeus and the Olympians into emotionally resonant and deeply funny stories, without losing any of their original wonder.

This stunning book features classical artwork inspired by the myths, as well as learned notes from the author.

• Each adventure is infused with Fry's distinctive wit, voice, and writing style
• Connoisseurs of the Greek myths will appreciate this fresh-yet-reverential interpretation, while newcomers will feel welcome
• Retellings brim with humor and emotion and offer rich cultural context

Celebrating the thrills, grandeur, and unabashed fun of the Greek myths, Mythos breathes life into ancient tales—from Pandora's box to Prometheus's fire.

This gorgeous volume invites you to explore a captivating world with the brilliant storyteller Stephen Fry as your guide.
• A collectible volume complete with a textured case, a foil-stamped jacket, and full-color art throughout
• The perfect gift for Greek mythology and history buffs, lovers of ancient Greece, art aficionados, and devoted fans of Stephen Fry
• Add it to the shelf with books like Circe by Madeline Miller, Norse Mythology by Neil Gaiman, and Mythology: Timeless Tales of Gods and Heroes by Edith Hamilton
About the Author
---
Stephen Fry is an award-winning writer, comedian, actor, and director. He rose to fame in A Bit of Fry & Laurie and Jeeves and Wooster. He hosted over 180 episodes of QI, and narrated the audio versions of the Harry Potter novels. His books include four novels and three volumes of autobiography. He lives in Los Angeles and London.
Praise For…
---
"If you ever thought Greek mythology was intimidating, Stephen Fry's approach will appeal to you, as he explains the myths in casual terms relating them to modern-day people or events (yes, there's even a reference to Morrissey). There is also plenty of just generally funny commentary that had me laughing out loud and sharing passages with my family."
-GeekDad

Holiday Gift Pick "Let waggish comic actor Fry be your ferryman as he retells, with the aid of eminent classical artwork, the ancient and strangely au courant Greek legends. Among them: Zeus and Hera's coupling of which Cry writes, 'Crackling with tension, impatience, and disgust, theirs was nonetheless a great marriage.'"
- O, The Oprah Magazine

Holiday Gift Guide Pick "Mythos is filled with all their favorite Greek myths, along with stunning illustrations and notes from the author. It's a quick-witted retelling so beginners and experts can both get something from it."
-Buzzfeed

"[Stephen Fry's] gloriously imaginative, erudite, warmhearted, and subversively funny retelling of the classic Greek myths...thoroughly enchanting and elucidating"
-Brain Pickings