Stephen Biesty's Incredible Cross Sections of Everything (Stephen Biesty Cross Sections) (Hardcover)
We are available Monday to Saturday 10:00 a.m. to 5:00 p.m. for Limited Browsing, Order Pickup, Phone Orders, and Contactless Parking Lot Pickup. Order online 24 hours a day.
**Free Local Area Delivery on Tuesday and Friday**
*USPS shipping is taking up to 2-3 weeks instead of 2-7 days, please consider contactless Parking Lot Pickup if you are in the area.
Please Note: Many of the high demand books that say 'On our Shelves Now' are on hold for other customers. We are hoping that they will be back in stock at the warehouse around the middle of June. Thank you for your patience.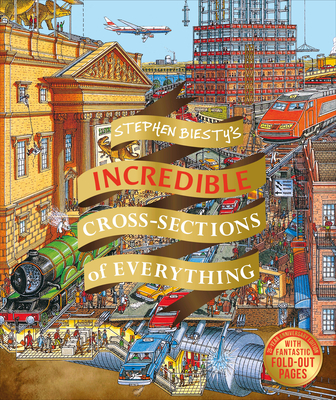 List Price: $19.99
Our Price: $17.99
(Save: $2.00 10%)
Description
---
How many rivets and bolts hold the wings of a Boeing 777 plane together? Why does an astronaut's spacesuit have a layer of liquid-cooled underwear? Who puts the jam in doughnuts?

Find out the answers to these questions and much, much more in Stephen Biesty's Incredible Cross-Sections of Everything. His intricate artwork will have children and adults alike poring over every detail, whether it's following the production line of a factory making newspapers or exploring the insides of the Saturn V rocket. Taking you through every stage of each process is Chester the Tester, a character who helps explain how things are made, along with his sidekick Hector the Inspector.

Written with humor and fascinating facts to guide you through the illustrations, this book is a glorious way to learn about the world around you.

First published 25 years ago, Stephen Biesty's Incredible Cross-Sections series has been updated for the silver anniversary, bringing delight to a whole new generation of curious young readers.
About the Author
---
Richard Platt has published more than 100 books, 32 of which were for DK. He has won several prizes, including a Blue Peter award. Richard also writes TV scripts and museum interpretation, and has appeared on TV and radio.

Stephen Biesty made his name in the 1990s for his best-selling Incredible Cross-sections series published by DK, which have topped sales of more than 3.5 million globally and have been printed in 16 languages. He has won many prizes, including the New York Times Best Illustrated Book Award in 1993. Stephen has also worked on several digital media projects, including an animated film for an exhibition at Tower Bridge in 2009.