Monstrous (Compact Disc)
We are available Monday to Saturday 10:00 a.m. to 5:00 p.m. for Limited Browsing, Order Pickup, Phone Orders, and Contactless Parking Lot Pickup. Order online 24 hours a day.
**Free Local Area Delivery on Tuesday and Friday**
Please Note: Many of the high demand books that say 'On our Shelves Now' are on hold for other customers. You can place an order and we will let you know when they come back in stock. Thank you for your patience.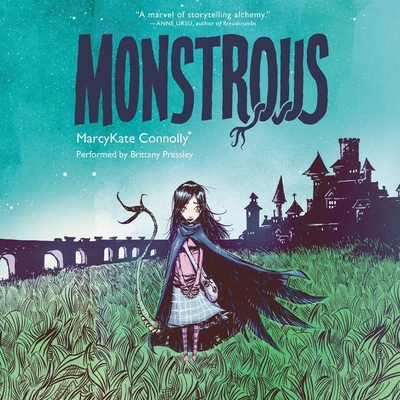 List Price: $39.99
Our Price: $35.99
(Save: $4.00 10%)
Unavailable from Warehouse - May take longer to order
Staff Reviews
---
Now out in paperback:
"Marcykate Connolly's debut children's novel, Monstrous, is absolutely delightful!
Kymera is not your typical young girl. Her father has brought her back to life, and in the process has made some modifications, giving her wings and a serpent's tail. She is forbidden to interact with the humans in the nearby city of Bryre because they would harm her. However, the city is under the spell of an evil wizard and the young girls are becoming ill and slowly dying. Under the direction of her father, Kym enters the city under the dark of night and rescues girls so that her father can heal them and send them to a better home. During one of her trips to the city, Kym is befriended by the king's page, Ren, and their friendship leads her to question everything she has known.  I loved, loved, loved this book! The characters are compelling and I promise that you will be captivated by the monstrous Kymera."
Description
---
The city of Bryre suffers under the magic of an evil wizard. Because of his curse, girls sicken and disappear without a trace, and Bryre's inhabitants live in fear. No one is allowed outside after dark.
Yet night is the only time that Kymera can enter this dangerous city, for she must not be seen by humans. Her father says they would not understand her wings, the bolts in her neck, or her spiky tail--they would kill her. They would not understand that she was created for a purpose: to rescue the girls of Bryre.
Despite her caution, a boy named Ren sees Kym and begins to leave a perfect red rose for her every evening. As they become friends, Kym learns that Ren knows about the missing girls, the wizard, and the evil magic that haunts Bryre.
And what he knows will change Kym's life.
Reminiscent of Frankenstein and the tales of the Brothers Grimm, this debut novel by MarcyKate Connolly stands out as a compelling, original story that has the feel of a classic.