The Last Good Heist: The Inside Story of the Biggest Single Payday in the Criminal History of the Northeast (Paperback)
We will be closed on Saturday, July 4th in observance of Independence Day.
We are available Monday to Saturday 10:00 a.m. to 4:00 p.m. for Limited Browsing, Order Pickup, Phone Orders, and Contactless Parking Lot Pickup. Order online 24 hours a day.
**Free Local Area Delivery on Tuesday and Friday**
*USPS shipping is taking up to 2-3 weeks instead of 2-7 days, please consider contactless Parking Lot Pickup if you are in the area.
Please Note: Many of the high demand books that say 'On our Shelves Now' are on hold for other customers. We are hoping that they will be back in stock at the warehouse around the middle of June. Thank you for your patience.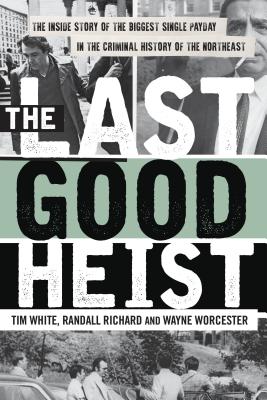 List Price: $18.95
Our Price: $17.06
(Save: $1.90 10%)
Description
---
On Aug. 14, 1975, eight daring thieves ransacked 148 massive safe-deposit boxes at a secret bank used by organized crime, La Cosa Nostra, and its associates in Providence, R.I. The crooks fled with duffle bags crammed full of cash, gold, silver, stamps, coins, jewels and high-end jewelry. The true value of the loot has always been kept secret, partly because it was ill-gotten to begin with, and partly because there was plenty of incentive to keep its true worth out of the limelight. It's one thing for authorities to admit they didn't find a trace of goods worth from $3 million to $4 million, and entirely another when what was at stake was more accurately valued at about $30 million, the equivalent of $120 million today. It was the biggest single payday in the criminal history of the Northeast. Nobody came close, not the infamous James "Whitey" Bulger, not John "The Dapper Don" Gotti, not even the Brinks or Wells Fargo robbers. The heist was bold enough and big enough to rock the underworld to its core, and it left La Cosa Nostra in the region awash in turmoil that still reverberates more than forty years later. Last Good Heist is the inside story of the robbery and its aftermath.
About the Author
---
Tim White is a prize-winning investigative reporter for WPRI-TV, the CBS affiliate in Providence; Randall Richard is a former investigative reporter and international correspondent for the Providence Journal and national reporter at the Associated Press, and Wayne Worcester is a former reporter and editor at the Providence Journal, novelist, essayist and now a journalism professor at the University of Connecticut.