Cuba Hasta Siempre (Hardcover)
Closed Monday, July 4th for Independence Day.
We strongly encourage all customers to wear a mask regardless of vaccination status. Masks are required for unvaccinated adults. Thank you!
Monday to Thursday 10AM to 7PM--Friday & Saturday 10AM to 8PM
--Open 11AM to 5PM on Sunday **Order online any time.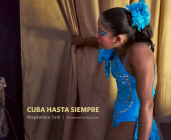 $50.00

Sold Out--Can order from warehouse
Description
---
Magdalena Sol first visited Cuba in 2011 and has returned every year since, enchanted by the place and the people who live in this slender stretch of land. Her photographs reveal the stirrings of transformation, however subtle and hard to see, and reflect a Cuba that is both tough and vulnerable. Cuba hasta siempre consists of more than 150 full-color photographs taken by Sol , accompanied by a foreword written by Time columnist and travel writer Pico Iyer. With minimal text, this book offers a view of Cuba beyond the tourist trade and the wealthy upper class. The photographs portray everyday settings and people engaged in daily tasks. A visual encounter with magical realism, this collection constructs an atmosphere of pervasive timelessness, a photographic time capsule. Memorabilia and objects from Cuba's revolutionary past linger in the present, while life goes on. These soulful images offer a new visual perspective on Cuba past and present. The Wall Street Journal called Sol 's images "lushly colorful," "formally striking," "restless," and "electrify ing].