Nimona (Compact Disc)
*USPS shipping is taking up to 2-3 weeks instead of 2-7 days, please consider contactless Parking Lot Pickup if you are in the area.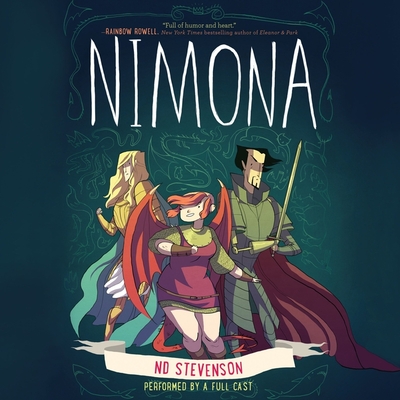 List Price: $19.99
Our Price: $17.99
(Save: $2.00 10%)
Unavailable from Warehouse - May take longer to order
Staff Reviews
---
"Nimona began as a weekly comic online. Slowly, what began as a humorous look into the lives of a villain and his shapeshifter henchwoman transformed into a full length graphic novel packed with action, tragedy, and occasional jokes about sharks. The book takes place in a medieval-sci-fi setting where a supervillain named Lord Blackheart battles the seemingly heroic Institution and its champion, Sir Ambrosius Goldenloin (no typo, no lie). When a shapeshifter named Nimona shows up in Blackheart's lair asking to be his sidekick, her abilities will put the conflict on a more destructive course… I normally read graphic novels very quickly, and Nimona is no exception. However, the book fits a lot into it's short length. The jokes are riotous, and even when the plot takes a more serious turn, the writing's quality never suffers. Even from the very beginning of the book, it is clear that Blackheart is not a very villainous villain, and the reversal of good guy and bad guy makes for interesting reading."
Description
---
Indies Choice Book of the Year * National Book Award Finalist * New York Times Bestseller *New York Times Notable Book * Kirkus Best Book * School Library Journal Best Book * Publishers Weekly Best Book * NPR Best Book * New York Public Library Best Book * Chicago Public Library Best Book
An original full cast audio adaptation of the New York Times bestselling graphic novel sensation from Noelle Stevenson, based on her beloved and critically acclaimed web comic.
Nemeses Dragons Science Symbolism All these and more await in this brilliantly subversive, sharply irreverent epic from Noelle Stevenson. Adapted for audio, this brilliant production is perfect for the legions of fans of the web comic and graphic novel, and is sure to win Noelle many new ones. This full cast audio edition is performed by Rebecca Soler, Jonathan Davis, Marc Thompson, January LaVoy, Natalie Gold, Peter Bradbury, and David Pittu, and features original music composed and produced by Loren Toolajian at Sandblast Productions.
Nimona is an impulsive young shape-shifter with a knack for villainy. Lord Ballister Blackheart is a villain with a vendetta. As sidekick and supervillain, Nimona and Lord Blackheart are about to wreak some serious havoc. Their mission: prove to the kingdom that Sir Ambrosius Goldenloin and his buddies at the Institution of Law Enforcement and Heroics aren't the heroes everyone thinks they are.
But as small acts of mischief escalate into a vicious battle, Lord Blackheart realizes that Nimona's powers are as murky and mysterious as her past. And her unpredictable wild side might be more dangerous than he is willing to admit.