You Know You Want This (Compact Disc)
We will be closed on Saturday, July 4th in observance of Independence Day.
We are available Monday to Saturday 10:00 a.m. to 4:00 p.m. for Limited Browsing, Order Pickup, Phone Orders, and Contactless Parking Lot Pickup. Order online 24 hours a day.
**Free Local Area Delivery on Tuesday and Friday**
*USPS shipping is taking up to 2-3 weeks instead of 2-7 days, please consider contactless Parking Lot Pickup if you are in the area.
Please Note: Many of the high demand books that say 'On our Shelves Now' are on hold for other customers. We are hoping that they will be back in stock at the warehouse around the middle of June. Thank you for your patience.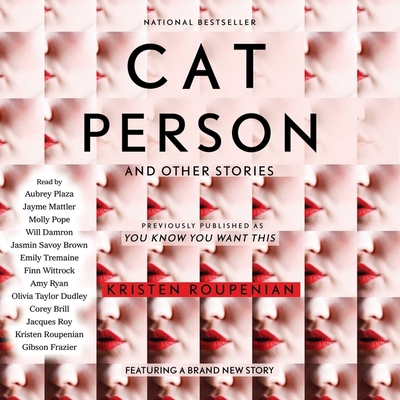 List Price: $39.99
Our Price: $35.99
(Save: $4.00 10%)
Unavailable from Warehouse - May take longer to order
Staff Reviews
---
"You Know You Want This is a collection of guilty pleasure stories that will leave you wanting long after each story ends. Every situation the characters' find themselves in seem, at first, very ordinary and typical. As each story unfolds, however, you become familiar with that nagging sense of 'how you would react in each situation' and it forces you to question your judgment based on what the characters do. You meet a couple who becomes dependent on their friend living with them far beyond what is appropriate, a group of girls who obsess over a scandalous movie in their early years, a man who questions how far is too far when Tinder is involved and various other characters who have perplexing experiences that mystify your fly-on- the-wall view of their lives. For some of these stories, you can easily see happening in your life, while others you would probably never admit that you experience out-loud. Each story is compelling, thoughtful and makes you take the time to contemplate how experiences that seem normal can become so enchanted or even confused. If you enjoy full bodied short story collections or the existing feel that a thriller/mystery story brings, this is the next pick for you."
February 2019 Indie Next List
---
"I was completely enthralled with Kristen Roupenian's 'Cat Person' story in the New Yorker and couldn't wait to pick up her collection. Like 'Cat Person,' each story pushes boundaries, holding a magnifying glass up to social norms and what our society accepts. The writing is fantastic, and the cadence of each story is strikingly unique. This book will delight fans of Roupenian's viral story and will start many more conversations in its wake."
— Courtney Flynn, Trident Booksellers & Cafe, Boston, MA
Description
---
From the author of "Cat Person"--"the short story that launched a thousand theories" (The Guardian)--comes Kristen Roupenian's highly anticipated debut, a compulsively readable collection of short stories that explore the complex--and often darkly funny--connections between gender, sex, and power across genres.You Know You Want This brilliantly explores the ways in which women are horrifying as much as it captures the horrors that are done to them. Among its pages are a couple who becomes obsessed with their friend hearing them have sex, then seeing them have sex...until they can't have sex without him; a ten-year-old whose birthday party takes a sinister turn when she wishes for "something mean"; a woman who finds a book of spells half hidden at the library and summons her heart's desire: a nameless, naked man; and a self-proclaimed "biter" who dreams of sneaking up behind and sinking her teeth into a green-eyed, long-haired, pink-cheeked coworker. Spanning a range of genres and topics--from the mundane to the murderous and supernatural--these are stories about sex and punishment, guilt and anger, the pleasure and terror of inflicting and experiencing pain. These stories fascinate and repel, revolt and arouse, scare and delight in equal measure. And, as a collection, they point a finger at you, daring you to feel uncomfortable--or worse, understood--as if to say, "You want this, right? You know you want this.