Hunt for the Skinwalker: Science Confronts the Unexplained at a Remote Ranch in Utah (MP3 CD)
Monday to Thursday 10AM to 7PM--Friday & Saturday 10AM to 8PM
--Open 11AM to 5PM on Sunday **Order online any time.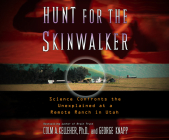 $29.99

Hard to Find - Unable to Order
Description
---
For more than fifty years, bizarre events at a remote Utah ranch have ranged from the perplexing to the wholly terrifying: vanishing and mutilated cattle, huge otherworldly creatures, invisible objects emitting magnetic fields, and more. For the family living at Skinwalker Ranch, life was under siege, and no one had been able to explain the horrors that surrounded them... But maybe science could. Leading a first-class team of research scientists, Colm Kelleher spent hundreds of days and nights on the Skinwalker property and experienced firsthand many of its haunting mysteries. With investigative reporter George Knapp--the only journalist allowed to witness and document the team's work--Kelleher chronicles the spectacular happenings the team observed personally and the theories of modern physics behind the phenomena. Far from the coldly detached findings one might expect, their conclusions are a clarion call to expand our vision far beyond what we know.