The Equivalents: A Story of Art, Female Friendship, and Liberation in the 1960s (Hardcover)
*USPS shipping is taking up to 2-3 weeks instead of 2-7 days, please consider contactless Parking Lot Pickup if you are in the area.
Please Note: Most of the anti-racism books that say 'on our shelves now' are on hold already for customers. We are hoping that they will be back in stock at the warehouse around the middle of June. Thank you for your patience.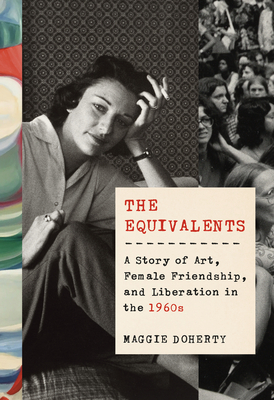 List Price: $29.95
Our Price: $26.96
(Save: $3.00 10%)
Description
---
The timely, never-before-told story of five brilliant, passionate women who, in the early 1960s, converged at the newly founded Radcliffe Institute for Independent Study and became friends as well as artistic collaborators, and who went on to shape the course of feminism in ways that are still felt today.

In 1960, Harvard's sister college, Radcliffe, announced the founding of an Institute for Independent Study, a "messy experiment" in women's education that offered paid fellowships to those with a PhD or "the equivalent" in artistic achievement. Five of the women who received fellowships--poets Anne Sexton and Maxine Kumin, painter Barbara Swan, sculptor Mariana Pineda, and writer Tillie Olsen--quickly formed deep bonds with one another that would inspire and sustain their most ambitious work. They called themselves "the Equivalents." Drawing from notebooks, letters, recordings, journals, poetry, and prose, Maggie Doherty weaves a moving narrative of friendship and ambition, art and activism, love and heartbreak, and shows how the institute spoke to the condition of women on the cusp of liberation.
About the Author
---
MAGGIE DOHERTY teaches writing at Harvard, where she earned a PhD in English. Her writing has appeared in many publications, including The New Republic, The New York Times, n+1, and The Nation. She lives in Cambridge, Massachusetts.
Praise For…
---
"The book reads like a novel, and an intense one at that. . . . Doherty closes with a comparison of that era with ours. What has changed for women over 60 years, what remains the same and what is worse? Was all that struggle and angst and creative turmoil for nothing? She doesn't think so, and neither do I. I once lived in that distant country, and I'm grateful to the author of The Equivalents for reminding me that I have no wish to return." 
—Margaret Atwood, The Globe and Mail (Canada)
 
"The Equivalents, Ms. Doherty's first book, is written with panache. She adroitly weaves vivid, empathetic portraits of these talented women, focusing on their artistic accomplishments, their impact on the women's movement and its impact on them. Her nuanced depiction of deep, supportive female friendships provides a welcome contrast to the fractious competitiveness and infighting that has so often tarnished the history of feminism." 
—The Wall Street Journal
 
"This deft history charts the relationships among five of the earliest fellows. . . . Doherty relates their often fraught intimacies in detail, emphasizing how these dynamics prefigured currents in American feminism and culture. The women's shared story shows both the potential and the limitations of a "room of one's own" as a liberating force." 
—The New Yorker
 
"The Equivalents, Maggie Doherty's group portrait of Olsen and four other women artists, is a story of neither collective liberation nor midcentury repression. Doherty has instead recovered a neglected "hinge" between the two, lingering on an early-1960s transitional moment between one stark period and the next. . . . Doherty is a confident, perceptive critic, and her biographical sketches are expertly interwoven with well-deployed – if too infrequent --readings of the poems themselves." 
—Bookforum
 
"Why tell this story now? Doherty's narrative depicts what displacement felt like for this small group of women in the 1960s, the fight against the "brutal impulse to shove [her daughter] away from [her] typewriter," in Olsen's words, or the feeling that her love for her children did not always "surpass [her] desire to be free of their demands," in Sexton's. But it also prompts us to consider the systems of marginalization that continue to reproduce the psychic division that agonized these women. . . . Doherty asks us to consider how the structure of education might not only be tailored to "fit the pattern" of people's lives, as Bunting wrote in 1961, but be mobilized to change the very patterning of society. . . . It is the story of what these women needed from and gave to one another." 
—The Nation

"Rich and powerful. . . . Electricity is palpable in Doherty's pages. I have rarely, if ever, read a work of non-fiction that chronicled relationships like these, with women in conversation about everything except men. . . . Her book is a love story about art and female friendship. . . . [Reading The Equivalents] prompted me to reach out to half a dozen women I hadn't spoken to recently, asking them about their relationships, their ideas. We have only just begun to understand how important are the stories of how women live. . . . I consumed [The Equivalents] at a furious speed, scrawling notes in the margins with greater-than-usual intensity." 
—Ruth Franklin, Harper's Magazine
 
"[An] engaging work of cultural biography. . . . Doherty, who teaches writing at Harvard, provides lively glimpses of the individual trajectories and projects of these artists, both in the years leading up to and after their time at Radcliffe. . . . An illuminating contribution to our history." 
—Claire Messud, The New York Times Book Review
 
"[Maggie Doherty] presents the institute as a crucial bridge between first- and second-wave feminism — between, roughly, Virginia Woolf and Betty Friedan. Through examining the five 'Equivalents,' she illustrates the institute's role in midcentury feminism and explores the ways in which both fell short. The result is a vivid, captivating, and excellently argued work that makes a compelling case for the importance of 'intellectual communit[ies]… made up entirely of female minds.'" 
—Hyperallergic
 
"Rich with insight into the challenges faced by midcentury women as they struggled to pursue their work. . . . With The Equivalents, Doherty sheds light on an important story, one that takes place at the fraught intersection of gender, race and class." 
—WBUR, "The ARTery"
   
"The Equivalents is an important, illuminating work. Fortunately, it is also a splendidly written page-turner to read for joy." 
—Minneapolis Star Tribune
 
"Elegantly composed. . . . The Equivalents also serves as something of a prehistory of second-wave feminism. Doherty describes the writers and artists she profiles as 'a hinge between the 1950s and the 1960s, between a decade of female confinement and a decade of female liberation.' They were women in transition, in a similarly transitional time. . . . Doherty writes most passionately about the texture of the women's friendships. . . . merging history, group biography, and literary criticism. . . . In a nod to Bunting's phraseology, Doherty ends with an amorphous challenge: What about 'another messy experiment,' geared to the distinct problems women face today?" 
—The Boston Globe
  
"Opposites attract in Doherty's exuberant account of women artists in the 1960s and '70s that especially probes the fierce connection between poets Anne Sexton and Maxine Kumin, a 'dance of sameness and separateness . . . something like a song." 
—O, The Oprah Magazine
 
"Think of this nonfiction work as Mona Lisa Smile meets Mrs. America. It tells of the founding students in Radcliffe's Independent Study program, which helped women to receive an education and raise a family." 
—Entertainment Weekly
  
"The exciting debut of Maggie Doherty brings together the important yet untold stories of five women that came together in the Radcliffe Institute for Independent Study. The institute, at Radcliffe College in Harvard, offered women postgraduate study opportunities at a time when women were expected not to step out of the domestic sphere. Doherty, a lecturer at Harvard, traces the history-making steps and lives of painter Barbara Swan, writer Tillie Olsen, sculptor Mariana Pineda, and poets Anne Sexton and Maxine Kumin. It's a rich tapestry brought to life by Doherty's access to their personal notes, recordings, letters and works, weaving her own strong voice in with the individual women to tell stories of art, radical politics, relationships, and unfettered ambition. Though her eye is on the past, it's most certainly a story to inspire our futures." 
—Dazed
 
"Doherty's overall galvanizing look at a little-explored conjunction of critical feminist voices should incite provocative historical context to current-day discussions around the need for more support of women's intellectual work." 
—Library Journal
  
"The Radcliffe Institute for Independent Study opened in 1960 with 24 women fellows, each receiving a stipend (which some used for child care) and office space. Historian Doherty profiles Bunting and five of the inaugural participants: poets Maxine Kumin and Anne Sexton, writer and activist Tillie Olsen, painter Barbara Swan, and sculptor Marianna Pineda. . . . Doherty sets all of her magnetic subjects within a fresh assessment of the sexism of postwar and Cold War America, and celebrates the Equivalents for breaking ground for 'innovative, intimate' creations by women. Doherty's vibrant curiosity and many-faceted expertise infuse this dynamic group biography with light and warmth." 
—Booklist (starred review)
 
"In 1960, Mary Ingraham Bunting, the founder of the Radcliffe Institute for Independent Study, recognized that too many promising women undergraduates sidelined their academic or creative careers. Thus, a wholly unique fellowship was created to support the work of 'intellectually displaced women' who possessed a doctorate or 'the equivalent.' Maggie Doherty draws from primary documents of five of those women—poets Anne Sexton and Maxine Kumin, painter Barbara Swan, sculptor Marianna Pineda, and writer Tillie Olsen—to write The Equivalents. Their work helped forge a path to women's liberation in the second half of the twentieth century, and this phenomenal book captures the tensions, ambitions, activism, friendship and yearning for community found in this incredible place and time." 
—Observer, "Best Books to Read in Spring 2020"

"The Equivalents is such an exciting, engaging, and important book that I loathed doing anything but reading it. With great psychological acumen, and ever-mindful of the nuances of class, race, and gender, Maggie Doherty brings these women vividly to life, allowing us to hear them speak, to feel their conflicts and their triumphs. By the end, I was electric with insights into my own relationships and work, and, perhaps surprisingly, I felt very optimistic about the future. Being creative while female has never been easy, and our best hope for resolution is this variety of historical excavation, one that shows us how people have tried to resolve it before, so we may learn and keep pushing forward, newly enlightened."
—Kate Bolick, author of Spinster: Making a Life of One's Own   

"Maggie Doherty's revelatory history of female artists and their influential friendships stands as triumphant testament to the powerhouse first known as Radcliffe's Institute for Independent Study. Later known as the Bunting Institute of Radcliffe College, this multi-disciplinary fellowship program continued to rescue, support, inspire and strengthen women scholars and artists for nearly forty years.  When Harvard swallowed Radcliffe in 1999, Radcliffe College ceased to exist, and the resulting quid pro quo endowment admitted men to what had been "a room of one's own" for Sexton, Kumin, Olsen, Swan, Pineda, and many women after them.  Maggie Doherty's The Equivalents reminds us that generative "women's work" can literally light up the darkness that discourages women's voices – just when we need them the most."
—Jayne Anne Phillips, Bunting Institute Fellow, 1980-81, author of Black Tickets and Lark and Termite

"In her thrilling book, Maggie Doherty brings to vivid life the long-hidden history of a glorious American experiment that gathered creative women for a year of community in the shelter of a great university. The emotional power of The Equivalents lies in its revelation of the incremental impact of community on each of these formerly isolated women, prophetic of what would happen two years later with the publication of The Feminine Mystique and the arrival of Second Wave feminism." 
—Honor Moore, author of Our Revolution

"Harvard University lecturer Doherty debuts with an elegant, novelistic history of the Radcliffe Institute for Independent Study and its influence on the lives and careers of five female artists and the women's movement at large. Founded by the president of Radcliffe College in 1960, the institute accepted women with PhDs or "the equivalent," providing them with a stipend, library access, a private office, and "a community of the like-minded." Doherty centers her account on a group of friends and collaborators who attended the institute from 1961 to 1963: poets Anne Sexton and Maxine Kumin, writer and communist organizer Tillie Olsen, painter Barbara Swan, and sculptor Marianna Pineda. Though the complex yet creatively fruitful relationship between Sexton and Kumin takes center stage, Olsen emerges as "the most politically conscious" member of the group, a forceful critic of the institute's premise that motherhood and intellectual work were mutually sustaining, who anticipated emerging fault lines within the women's movement at the intersections of race, class, and gender. Doherty's prose dazzles, and she skillfully integrates her copious research into the narrative while toggling between biographical, creative, and political matters. This empathetic, wide-angled portrait will resonate with fans of the individual artists as well as feminists and readers of women's history." 
—Publisher's Weekly (starred review)
 
"Superb. . . . A welcome spotlight on an overdue 'experiment.'"
—Kirkus Reviews