The Masterpiece: A Novel (Hardcover)
*USPS shipping is taking up to 2-3 weeks instead of 2-7 days, please consider contactless Parking Lot Pickup if you are in the area.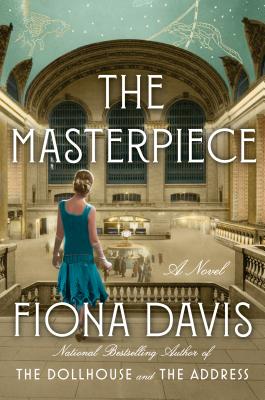 List Price: $26.00
Our Price: $23.40
(Save: $2.60 10%)
Hard to Find - Unable to Order
Staff Reviews
---
"Fiona Davis, author of The Dollhouse and The Address, weaves an intriguing story of love and art, lost and rediscovered. It is centered all within the walls of the historic New York Grand Central Terminal. Davis weaves the story of Clara Darden, an artist of the famed Grand Central School of Art in the late 1920's, and Virginia Clay, whose life is turned upside down in the 1970's as she struggles to make a new life for herself and her daughter Ruby. It's good to see strong women find their way back while uncovering secrets and intrigue with humor. A great read, especially for fans of historical fiction!"
Description
---
In this captivating novel, national bestselling author Fiona Davis takes readers into the glamorous lost art school within Grand Central Terminal, where two very different women, fifty years apart, strive to make their mark on a world set against them.

For most New Yorkers, Grand Central Terminal is a crown jewel, a masterpiece of design. But for Clara Darden and Virginia Clay, it represents something quite different.

For Clara, the terminal is the stepping stone to her future. It is 1928, and Clara is teaching at the lauded Grand Central School of Art. Though not even the prestige of the school can override the public's disdain for a "woman artist," fiery Clara is single-minded in her quest to achieve every creative success—even while juggling the affections of two very different men. But she and her bohemian friends have no idea that they'll soon be blindsided by the looming Great Depression...and that even poverty and hunger will do little to prepare Clara for the greater tragedy yet to come.

By 1974, the terminal has declined almost as sharply as Virginia Clay's life. Dilapidated and dangerous, Grand Central is at the center of a fierce lawsuit: Is the once-grand building a landmark to be preserved, or a cancer to be demolished? For Virginia, it is simply her last resort. Recently divorced, she has just accepted a job in the information booth in order to support herself and her college-age daughter, Ruby. But when Virginia stumbles upon an abandoned art school within the terminal and discovers a striking watercolor, her eyes are opened to the elegance beneath the decay. She embarks on a quest to find the artist of the unsigned masterpiece—an impassioned chase that draws Virginia not only into the battle to save Grand Central but deep into the mystery of Clara Darden, the famed 1920s illustrator who disappeared from history in 1931.
About the Author
---
Fiona Davis is the nationally bestselling author of The Dollhouse, The Address, and The Masterpiece. She lives in New York City and is a graduate of the College of William & Mary in Virginia and the Columbia Journalism School.
Praise For…
---
Praise for The Masterpiece

"Fiona Davis in The Masterpiece continues a winning formula that showcases the stories behind New York City landmarks...a hard-to-resist and a timely reminder that for far too long the work done by women has been dismissed and disrespected."—USA Today

"Fiona Davis achieves a world in which fictional characters and real life seamlessly meld… The Masterpiece is a beautifully crafted, meticulously researched story."—New York Journal of Books

"Fiona Davis delivers another stunning narrative."—US Weekly

"Davis has written another paean to a New York City landmark. Historical fiction fans will love the compelling dual narrators and time periods perfectly captured in this novel based on the history of one of the busiest transportation hubs in the world."—Library Journal (starred review)

"Davis's splendid third novel takes readers back in time to the New York of the 1970s and the late '20s, centering on Grand Central Station… Davis entices with a fast-paced mystery and expertly reveals parallels between the two periods in New York and between Clara and Virginia, resulting in a true crowd-pleaser."—Publishers Weekly

"An enthralling portrait of a woman artist in the Depression era juxtaposed with that of a newly divorced mom in the '70s.... Set against the backdrop of NYC Beaux Arts gem Grand Central Terminal, where they both find work, the two stories artfully converge for an unexpected but satisfactory ending."—Family Circle

"With richly drawn characters living in two storied eras, there is much to be enchanted by."—Kirkus Reviews
 
"The Grand Central School of Art…comes alive with Davis' retelling. Her characters are real and three-dimensional, and her writing is so graceful…. Full of mystery, controversy and history, The Masterpiece is on my list of favorites for this year and beyond."—Leah DeCesare for Bookreporter.com

"Fiona Davis has made a name for herself in writing about famous New York City locations, and in The Masterpiece, she delivers another un-put-down-able gem."—PopSugar

"A touch of glamour and a dose of captivating history fill Fiona Davis' latest novel."—Southern Living

"This gorgeous novel from Fiona Davis tells a story that spans decades and connects two women who would otherwise be complete strangers… Historical fiction fans will love following along as Virginia becomes embroiled in both the fight to save the terminal and her hunt to unmask the mysterious painter."—Realsimple.com

"A little mysterious, a little historical, a little feminist, and a lot exciting, this is one book everyone in your book club will love."—Betches.com

"Fona Davis has established herself as a master of hsitorical settings and fictional recollections of those worlds....Davis expertly switches between the lives of Clara and Virginia, weaving their struggles for independence and security with Grand Central's history. Readers will be drawn intot he lives of these remarkable women—and, alongside Virginia, intot he mystery of what happened to Clara."—Bookpage

"An incredible story. Historically stunning, with characters that you will never forget. Those that have been touted as 'must reads,' this one outshines many of them."—Suspense Magazine

"Davis brings two very different eras to life, evoking the terminal's early Jazz Age glamour and its later state of decay. Both protagonists are women forced into independence, who build new lives on their own terms more than once. The terminal is full of colorful characters...and is itself a character, a part of the city both dynamic and enduring. Davis's compelling, richly detailed novel will appeal to art aficionados, those who love New York and anyone who relishes a story of reinvention."—ShelfAwareness

"Both Clara and Virginia, the protagonists of this novel, have incredibly compelling personal stories, and Fiona Davis found a way to bring them together in a way that was unexpected (but not cheesy)...I couldn't put it down!"—RealSimple.com

"With a lush landscape and a probing look into the experiences of women in two different periods, this is a historic novel that will prove popular."—The Parksburg News and Sentinel

"Davis is a beautiful writer who manages to perfectly capture the tension between the decay and despair of 1970s NYC and the faded glory of the iconic building that was nearly destroyed in the name of progress… The book is thoroughly captivating and inspiring… I couldn't put it down and felt completely drawn into both storylines and the art, history and elements of female empowerment that really anchored the book."—Bobbi Dumas for Kirkus.com

"One of the finest novels I've read"—NJ.com

"The Masterpiece is an apt title for Fiona Davis' latest novel… [Fiona Davis] shines as a journalist relaying municipal history and as an author, mining the women's psyches."—The Newark Star-Ledger

"Davis is extremely deft with historical fiction, making history nearly jump off the page… [her] stories are character-driven, and these characters are skillfully developed. They live life to the fullest, with challenges, joys, love and loss… Davis skillfully and beautifully merges their stories in a book I found very difficult to put down."—The Fredericksburg Free Lance-Star

"How could I not adore a book set in New York City, my favorite city in the world? A soaringly smart page-turner about art, history, memory, and how two blazingly unique women, separated and yet bound together by different decades, struggle to find their place and make their world their own. Magnificent."—Caroline Leavitt, New York Times bestselling author of Pictures of You and Cruel Beautiful World

"Bursting with delicious period detail, in The Masterpiece Fiona Davis takes us behind the scenes of New York's Grand Central Terminal to reveal a forgotten world of art and intrigue. Oozing with sophistication and packed with a delicious cast of characters (including the building itself), this is a hugely enjoyable and cleverly crafted historical novel."—Hazel Gaynor, New York Times bestselling author of The Cottingley Secret

"An enthralling tale of love and art, lost and found. Fiona Davis has written another beautiful valentine to New York City, this one about two women, fifty years apart, both struggling and fighting to find themselves in a time and place not always kind to the displaced or lonely. A fascinating, tender, mysterious and ultimately deeply satisfying novel."—M.J. Rose, New York Times bestselling author of Tiffany Blues

"With her two previous novels, The Address and The Dollhouse, Fiona Davis established herself as the master of plumbing the depths of New York's landmarks for the secrets that lie beneath. Now in The Masterpiece, Davis turns her talents to Grand Central Terminal, with a powerful dual narrative about an artist who taught at a prestigious art school in the station in the 1920s and a single mother working at Grand Central in the 1970s who discovers the remains of the art school. Davis seamlessly weaves the compelling narratives of these women against a backdrop of vivid historic detail, once again setting the standard for bringing New York's past to life."—Pam Jenoff, New York Times Bestselling Author of The Orphan's Tale

"Riveting, sophisticated, and utterly sublime, The Masterpiece is an exquisite novel, as smart as it is beautifully written."—New York Times Bestselling Author Tasha Alexander

"A wonderfully woven story of two women separated by time but linked by their love of beauty expressed in art and their determination to save what they simply can't live without. Expertly researched and detailed, here is a book for devotees of historical fiction, the art world, and all things Manhattan."—Susan Meissner, bestselling author of As Bright as Heaven

"With The Masterpiece, Fiona Davis returns with another page-turning tale of that will transport readers, this time centered around New York City's magnificent and storied Grand Central Terminal. Fiona Davis' signature blend of past and present, history and architecture, secrets and discovery make every novel a must-read. With strong female characters, exquisite historical detail, and plenty of intrigue, The Masterpiece will delight!"—Jamie Brenner, bestselling author of The Forever Summer

"Fiona Davis is a master of making the past come roaring to life with rich and luxurious detail. The Masterpiece is her best yet. With formidable women, dazzling prose, and the glamorous backdrops of the New York art scene in the 20s and 70s, this is a must-read."—Taylor Jenkins Reid, author of The Seven Husbands of Evelyn Hugo

"In a story as masterful as its title, Fiona Davis paints a captivating picture of the once famous art school in New York City's iconic Grand Central and its brilliant female artist, interweaving this little-known past with New York City of the 1970s where another woman works to preserve the legendary structure from potential destruction. As the women at the heart of The Masterpiece rescue Grand Central and its art, they rescue themselves in a compelling demonstration of the way in which history reverberates in the present."—Marie Benedict, author of The Other Einstein and Carnegie's Maid 

More Praise for Fiona Davis and Her Novels

"A delicious tale of love, lies and madness."—People on The Address
 
"The Address is compelling, historically minded fiction with unexpected--and entertaining--twists and turns...the novel delights..."—Ms. Magazine
 
"Lively and detail rich--set against the backdrop of NYC's infamous Dakota building--with a thread of mystery that makes it easy to enjoy, hard to put down."—Family Circle
 
"Spanning over 100 years, Fiona Davis' mystery is packed with deceit."—US Weekly
 
"Rich both in twists and period detail, this tale of big-city ambition is impossible to put down."—People on The Dollhouse

"The Dollhouse is a thrilling peek through a window into another world—one that readers will savor for a long time."—Associated Press

"An ode to old New York that will have you yelling for more seasons of Mad Men."—New York Post on The Dollhouse