Annie's Life in Lists (Hardcover)
We are available Monday to Saturday 10:00 a.m. to 5:00 p.m. for Limited Browsing, Order Pickup, Phone Orders, and Contactless Parking Lot Pickup. Order online 24 hours a day.
**Free Local Area Delivery on Tuesday and Friday**
*USPS shipping is taking up to 2-3 weeks instead of 2-7 days, please consider contactless Parking Lot Pickup if you are in the area.
Please Note: Many of the high demand books that say 'On our Shelves Now' are on hold for other customers. We are hoping that they will be back in stock at the warehouse around the middle of June. Thank you for your patience.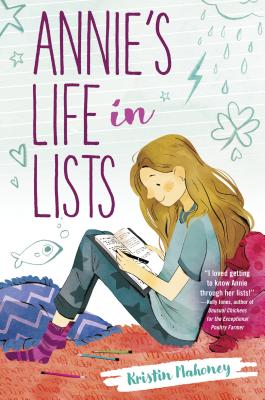 List Price: $16.99
Our Price: $15.29
(Save: $1.70 10%)
Sold Out--Can order from warehouse
Description
---
If you love kids like:
1. Anatastia Krupnik
2. Ramona Quimby
3. The Penderwicks
then you will love Annie! For Annie, lists are how she keeps her whole life in order. And there is a lot to keep track of!

Annie's a shy fifth grader with an incredible memory and a love of making lists. It helps her keep track of things when they can seem a little out of control, like her family, her friends, and her life in a new place.

Annie has:
1. An incredible memory (really, it's almost photographic) that can get her in trouble
2. A desire to overcome her shyness
3. A brother who is mad at her because he thinks she is the reason they had to move to Clover Gap, population 8,432.
4. A best friend who she is (almost) certain will always be her best friend.
5. New classmates, some of whom are nicer than others.
6. A rocky start finding her place in her new home.

Annie's Life in Lists introduces a sweet new voice that finds that even amid the chaos of everyday life, it's important to put things in order.

"Perfect for anyone who's ever worried about starting a new school, saying the wrong thing, dying of embarrassment, or losing a best friend. I loved getting to know Annie through her lists!" --Kelly Jones, author of Unusual Chickens for the Exceptional Poultry Farmer

"A sweet, clever, warmhearted book, and so fun to read!" -Natalie Standiford, author of The Only Girl in School

"Annie's slightly tongue-in-cheek voice, revealed in the lists and occasional narrative paragraphs, breathes life into the many characters around her, adding believability. 1. Fresh. 2. Fun. 3. Entertaining." --Kirkus Reviews

"Annie's humor, empathy, and frankness shine through in her engaging narrative. Every character has its own distinct presence on the page, and the individual conflicts help each one feel fully developed and unique." --School Library Journal
About the Author
---
Kristin Mahoney is a former magazine editor and elementary school reading teacher with a master's degree in elementary education and teaching literacy from Bank Street College of Education. Her writing has appeared on the New York Times Learning Network Blog, McCall's Magazine, and the SCBWI "Write This" Gallery. Kristin has lived in both Brooklyn and in a small town that resembles Clover Gap. She now lives in New Jersey with her husband and two daughters. Follow her on Twitter at @KMcMahoney.
Praise For…
---
"Perfect for anyone who's ever worried about starting a new school, saying the wrong thing, dying of embarrassment, or losing a best friend. I loved getting to know Annie through her lists!" --Kelly Jones, author of Unusual Chickens for the Exceptional Poultry Farmer

"A sweet, clever, warmhearted book, and so fun to read!" -Natalie Standiford, author of The Only Girl in School

"Annie's slightly tongue-in-cheek voice, revealed in the lists and occasional narrative paragraphs, breathes life into the many characters around her, adding believability. 1. Fresh. 2. Fun. 3. Entertaining."  --Kirkus Reviews

"Annie's humor, empathy, and frankness shine through in her engaging narrative. Every character has its own distinct presence on the page, and the individual conflicts help each one feel fully developed and unique." --School Library Journal