The Twelve Birdies of Christmas (Board Books)
Closing at 4:00 p.m. on Wednesday, November 25th.
Closed on Thursday, November 26th for Thanksgiving.
Open Friday, 11/27 from 10:00 a.m. to 8:00 p.m.
New Expanded Hours!! Monday to Thursday 10:00 a.m. to 7:00 p.m.
--Friday & Saturday 10:00 a.m. to 8:00 p.m.--Sunday 10:00 a.m. to 6:00 p.m.
We are here for limited in-store browsing and contactless parking lot pickup. Order online any time.
**If you are shipping an online order, please order by 11/30/2020 to ensure holiday delivery.**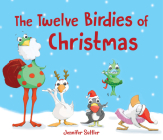 Description
---
The traditional carol is hilariously brought to life as 12 birdies count their way through the 12 days. From beret-wearing French hens to calling birds using their cell phones to scuba-diving swans, this visual reimagining of the holiday song is great fun for the youngest readers. From the artist of Dirty Birdies and Bundle Up, Jennifer Sattler.