Paradise Sands: A Story of Enchantment (Hardcover)
Monday to Thursday 10AM to 7PM--Friday & Saturday 10AM to 8PM
--Open 11AM to 5PM on Sunday **Order online any time.
Expanded Sunday Hours: 12/11 & 12/18 - 10:00 a.m. to 6:00 p.m.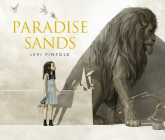 Description
---
A captivating tale of eerie places and mystical bargains, sumptuously illustrated by Kate Greenaway Medalist Levi Pinfold

Washed clean in his pool, we fall under his rule . . .
Away from what is, we all are now his.

When a young girl and her older brothers step into the ghostly Paradise Sands hotel, they fall under the rule of the mysterious Teller. The girl makes a deal with the commanding creature to free them all from his haunting paradise—and let them return to their mother, white roses in hand. But can the girl, determined as she is, hold up her side of the bargain? A contemporary story with the feel of a classic fairy tale, Levi Pinfold's Paradise Sands is lush with enchanting illustrations, rendered in a muted palette with the artist's distinctive stylistic realism.
About the Author
---
Levi Pinfold is the creator of the picture books The Django, Greenling, and Black Dog, a Kate Greenaway Medal winner. He is also the illustrator of The Dam by David Almond. Levi Pinfold lives in Australia.
Praise For…
---
Startling and memorable. . . glorious ambiguity invites repeat reads. . . . It is a rare picture book that works best with older readers—this is a stellar example.
—The Bulletin of the Center for Children's Books (starred review)

A story that demands that its readers return to each page. . . This mesmerizing work offers potential jumping-off points to discuss many topics, including magical realism, symbolism, family relationships and roles, and mental health.
—Kirkus Reviews (starred review)

Haunting and surreal. . . Photorealistic and dazzling, the illustrations capture the fine details of spaces both real and imagined in precise, lasting terms.
—Foreword Reviews (starred review)

Chilly, precision-drafted spreads with dazzling architectural motifs confer gravitas on this haunting fairy tale centering a steely character who remains resolute in the face of trickery.
—Publishers Weekly

Pinfold lures readers into a story aswirl with mystery, dust, and darkness. . . Snippets of an eerie rhyme and the presence of a talking lion bestow a folkloric quality to the story, which also calls to mind Chris Van Allsburg's Jumanji. . . a haunting journey that readers won't easily shake.
—Booklist