The Cabin at the End of the World Lib/E (Compact Disc)
We are available Monday to Saturday 10:00 a.m. to 5:00 p.m. for Limited Browsing, Order Pickup, Phone Orders, and Contactless Parking Lot Pickup. Order online 24 hours a day.
**Free Local Area Delivery on Tuesday and Friday**
*USPS shipping is taking up to 2-3 weeks instead of 2-7 days, please consider contactless Parking Lot Pickup if you are in the area.
Please Note: Many of the high demand books that say 'On our Shelves Now' are on hold for other customers. You can place an order and we will let you know when they come back in stock. Thank you for your patience.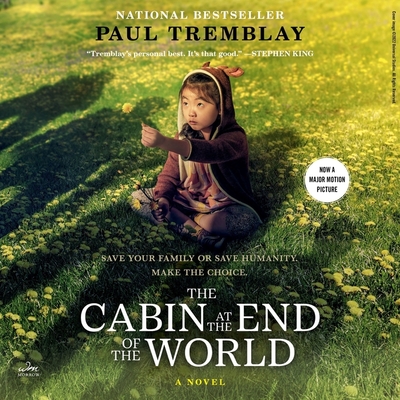 List Price: $59.99
Our Price: $53.99
(Save: $6.00 10%)
Unavailable from Warehouse - May take longer to order
Staff Reviews
---
"A little girl and her 2 fathers are staying at a cabin in the middle of nowhere, off the beaten track, minding their own business, when they are approached by 4 strangers with an awful choice they force on this family. What ensues is a journey you have to read to believe, but along the way, you're challenged as to who to believe and what to believe is really happening. Thankfully, author Tremblay doesn't make you wait long. What I can tell you is that whatever you thought about this book – you probably aren't even close. I know I wasn't. I was NOT expecting to cry, I was NOT expecting to be so engrossed that I would read the entire novel in one sitting. The journey these characters go through is raw and it's hard to read. It's not for the faint of heart, but it's not overly graphic, either. Many times during the course of reading this novel did I look up and think, "What in the actual hell am I reading?" If you're looking for a perplexing read that you'll race through to figure out, this is the novel for you."
July 2018 Indie Next List
---
"Wen and her dads are taking a break from everything by visiting a remote cabin for vacation. Wen is studying grasshoppers in their yard when a man comes up and warns her that she and her dads are going to have to make a decision. And that's about all I can tell you without spoiling the story. This book was so creepy, in a very good way. I'd classify this as horror, but very realistic."
— Jennifer Jones, Bookmiser, Roswell, GA
Description
---
"A tremendous book―thought-provoking and terrifying, with tension that winds up like a chain. The Cabin at the End of the World is Tremblay's personal best. It's that good." -- Stephen King
The Bram Stoker Award-winning author of A Head Full of Ghosts adds an inventive twist to the home invasion horror story in a heart-palpitating novel of psychological suspense that recalls Stephen King's Misery, Ruth Ware's In a Dark, Dark Wood, and Jack Ketchum's cult hit The Girl Next Door.
Seven-year-old Wen and her parents, Eric and Andrew, are vacationing at a remote cabin on a quiet New Hampshire lake. Their closest neighbors are more than two miles in either direction along a rutted dirt road.
One afternoon, as Wen catches grasshoppers in the front yard, a stranger unexpectedly appears in the driveway. Leonard is the largest man Wen has ever seen but he is young, friendly, and he wins her over almost instantly. Leonard and Wen talk and play until Leonard abruptly apologizes and tells Wen, None of what's going to happen is your fault. Three more strangers then arrive at the cabin carrying unidentifiable, menacing objects. As Wen sprints inside to warn her parents, Leonard calls out: Your dads won't want to let us in, Wen. But they have to. We need your help to save the world.
Thus begins an unbearably tense, gripping tale of paranoia, sacrifice, apocalypse, and survival that escalates to a shattering conclusion, one in which the fate of a loving family and quite possibly all of humanity are entwined. The Cabin at the End of the World is a masterpiece of terror and suspense from the fantastically fertile imagination of Paul Tremblay.