Dylan Goes Electric!: Newport, Seeger, Dylan, and the Night That Split the Sixties (MP3 CD)
We are available Monday to Saturday 10:00 a.m. to 5:00 p.m. for Limited Browsing, Order Pickup, Phone Orders, and Contactless Parking Lot Pickup. Order online 24 hours a day.
**Free Local Area Delivery on Tuesday and Friday**
*USPS shipping is taking up to 2-3 weeks instead of 2-7 days, please consider contactless Parking Lot Pickup if you are in the area.
Please Note: Many of the high demand books that say 'On our Shelves Now' are on hold for other customers. You can place an order and we will let you know when they come back in stock. Thank you for your patience.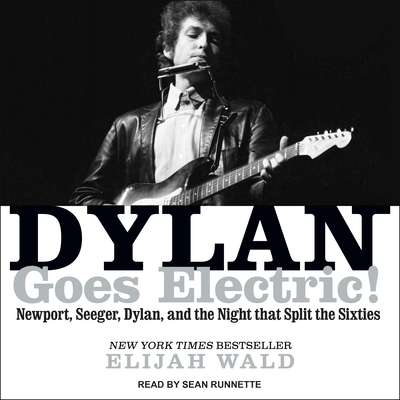 List Price: $29.99
Our Price: $26.99
(Save: $3.00 10%)
Sold Out--Can order from warehouse
Staff Reviews
---
"Elijah Wald's Dylan Goes Electric!, on its surface, explores the events leading up to and including the 1965 Newport Folk Festival, where Bob Dylan and his band played a raucous three song set of rock & roll tunes. Folk purists were scandalized by Dylan's 'rejection' of tradition. The sheer volume coming off the stage stunned everybody else. Wald's book is a fun and unsentimental read that partially deflates many of the overblown myths obscuring the event. The most interesting sections intelligently address the conundrums facing music fans in the 1960s. In the late-50s and early-60s, it was easy for some to differentiate between 'serious' folk music (Pete Seeger, Ewan MacColl, Odetta) and frivolous 'pop' music (The Kingston Trio, Frankie Avalon, rock & roll.) By 1965, many attendees of the folk festival had to be noticing that the most popular music on the radio (The Beatles, Motown, Bob Dylan) was also the most musically and sonically adventurous. Battle lines were drawn unconsciously. Dylan Goes Electric! is a cool book, and serves as a nice companion piece to David Hajdu's Positively 4th Street."
Description
---
On the evening of July 25, 1965, Bob Dylan took the stage at Newport Folk Festival, backed by an electric band, and roared into his new rock hit, "Like a Rolling Stone." The audience of committed folk purists and political activists who had hailed him as their acoustic prophet reacted with a mix of shock, booing, and scattered cheers. It was the shot heard round the world-Dylan's declaration of musical independence, the end of the folk revival, and the birth of rock as the voice of a generation-and one of the defining moments in twentieth-century music. In Dylan Goes Electric , Elijah Wald explores the cultural, political, and historical context of this seminal event that embodies the transformative decade that was the sixties. Wald delves deep into the folk revival, the rise of rock, and the tensions between traditional and groundbreaking music to provide new insights into Dylan's artistic evolution, his special affinity to blues, his complex relationship to the folk establishment and his sometime mentor Pete Seeger, and the ways he reshaped popular music forever.