Your Heart, My Hands: An Immigrant's Remarkable Journey to Become One of America's Preeminent Cardiac Surgeons (Hardcover)
We are available Monday to Saturday 10:00 a.m. to 5:00 p.m. for Limited Browsing, Order Pickup, Phone Orders, and Contactless Parking Lot Pickup. Order online 24 hours a day.
**Free Local Area Delivery on Tuesday and Friday**
*USPS shipping is taking up to 2-3 weeks instead of 2-7 days, please consider contactless Parking Lot Pickup if you are in the area.
Please Note: Many of the high demand books that say 'On our Shelves Now' are on hold for other customers. You can place an order and we will let you know when they come back in stock. Thank you for your patience.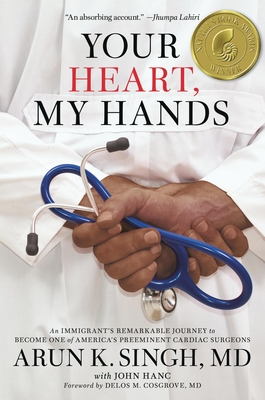 List Price: $28.00
Our Price: $25.20
(Save: $2.80 10%)
Description
---
"An absorbing account." --Jhumpa Lahiri




An encouraging and inspiring true story on how a boy from India overcame a difficult childhood and devastating hand injuries and became one of the most prolific cardiac surgeons in U.S. history.




Leaving a life marked by crippling setbacks and his father's doubt, in 1967 a twenty-something doctor from India arrived in America with only five dollars and the desire to claim his American dream. The journey still awaiting Dr. Arun K. Singh would be unparalleled. Faced with an entirely new culture, racism, and the lasting effects of disabling childhood injuries, through hard work and perseverance he overcame all odds. Now having performed over 15,000 open heart surgeries, more than nearly every surgeon in history, Dr. Singh reflects on his most memorable patients and his incredible personal life. Shared for the first time, these intimate and uplifting accounts, along with photos, will have you cheering for the underdog and appreciating the enduring determination of the human spirit.
About the Author
---
Arun Singh, M.D.,
preeminent cardiac surgeon, has personally performed over 15,000 heart surgeries. Dr. Singh has earned numerous awards as a physician including the American Heart Association's Hero at Heart Award and the Milton Hamolsky Outstanding Physician Award. In practice at Rhode Island Hospital since 1975, Dr. Singh has been voted "Top Doc" by
Rhode Island Monthly Magazine
for the last 16 years. He was also elected to the Rhode Island Heritage Hall of Fame, only the second person of Indian descent to receive this distinction. He lives in Providence, RI.
Delos Cosgrove, M.D., is a renowned cardiac surgeon and President and CEO of Cleveland Clinic, one of the nation's largest and most prestigious medical centers. An advisor to President Obama on veteran's affairs, he was recently appointed to President Trump's Strategic and Policy Forum, which offers non-partisan advice on job growth.

John Hanc is the author or coauthor of seventeen books, including the award-winning memoirs Not Dead Yet (Thomas Dunne), co-authored with cyclist Phil Southerland, and The Coolest Race on Earth (Chicago Review Press), an account of Hanc's participation in the Antartica Marathon. He is also the coauthor of Fighting for My Life (Thomas Nelson, 2019) with Jamie Tyrone and Marwan Sabbagh. A longtime journalist, Hanc is a frequent contributor to the New York Times and Newsday, and his work has appeared in such publications as Smithsonian, the Boston Globe, Runner's World, and the Columbia Journalism Review.


Praise For…
---
"An absorbing account of a man who arrived in America with five dollars in his pocket and went on to save tens of thousands of lives. Singh's journey from rural India to the operating room is unconventional and affecting."—Jhumpa Lahiri, Pulitzer Prize-winning and bestselling author of In Other Words and The Namesake

"Dr. Singh is living proof that hard work, persistence, and grit can overcome the most discouraging obstacles. His stories are engaging. His views on life and the future of health care deserve our attention. Your Heart, My Hands will be an inspiration to all who read it."—Delos Cosgrove, MD, CEO and President of the Cleveland Clinic

"In his wonderfully written memoir, [Dr. Singh] will touch your heart with his incredible life story of beating down multifold personal obstacles to help tens of thousands of patients with his unyielding determination, devotion, and dedication."—Dr. Rudolph Tanzi, New York Times bestselling author of The Healing Self and Professor of Neurology, Harvard Medical School

"This gripping read chronicles the fascinating life and patient encounters of Arun Singh, MD. His mission was to be the very best in care and he succeeded against all odds."—David O. Williams, MD, Senior Cardiologist, Brigham and Women's Hospital and Professor of Medicine, Harvard Medical School