So You Want to Talk About Race (Paperback)
We will be closed on Saturday, July 4th in observance of Independence Day.
We are available Monday to Saturday 10:00 a.m. to 4:00 p.m. for Limited Browsing, Order Pickup, Phone Orders, and Contactless Parking Lot Pickup. Order online 24 hours a day.
**Free Local Area Delivery on Tuesday and Friday**
*USPS shipping is taking up to 2-3 weeks instead of 2-7 days, please consider contactless Parking Lot Pickup if you are in the area.
Please Note: Many of the high demand books that say 'On our Shelves Now' are on hold for other customers. We are hoping that they will be back in stock at the warehouse around the middle of June. Thank you for your patience.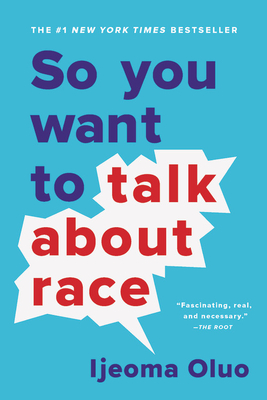 List Price: $16.99
Our Price: $15.29
(Save: $1.70 10%)
Description
---
In this New York Times bestseller, Ijeoma Oluo offers a hard-hitting but user-friendly examination of race in America
Widespread reporting on aspects of white supremacy--from police brutality to the mass incarceration of Black Americans--has put a media spotlight on racism in our society. Still, it is a difficult subject to talk about. How do you tell your roommate her jokes are racist? Why did your sister-in-law take umbrage when you asked to touch her hair--and how do you make it right? How do you explain white privilege to your white, privileged friend?
In So You Want to Talk About Race, Ijeoma Oluo guides readers of all races through subjects ranging from intersectionality and affirmative action to "model minorities" in an attempt to make the seemingly impossible possible: honest conversations about race and racism, and how they infect almost every aspect of American life.
"Oluo gives us--both white people and people of color--that language to engage in clear, constructive, and confident dialogue with each other about how to deal with racial prejudices and biases."
--National Book Review
"Generous and empathetic, yet usefully blunt . . . it's for anyone who wants to be smarter and more empathetic about matters of race and engage in more productive anti-racist action."
--Salon (Required Reading)
About the Author
---
Ijeoma Oluo is a writer and speaker whose work on race has been featured in the New York Times, Washington Post, Elle, The Guardian, and more. She has twice been named to The Root 100 and received the 2018 Feminist Humanist Award from the American Humanist Society. She lives in Seattle.
Praise For…
---
"So You Want To Talk About Race is a landmark book for our times. Oluo does more than deliver tough, blunt truths about the realities of racism, power and oppression. She also, in bracing fashion, offers a vision of hope; a message that through dialogue and struggle, we can emancipate ourselves from what she calls 'the nation's oldest pyramid scheme: white supremacy.' That is why I don't think this is merely one of the most important books of the last decade. It is also one of the most optimistic. To write such a book in these difficult times is in and of itself, a daring and beautiful act."—Dave Zirin, sports editor at The Nation and author of What's My Name, Fool?: Sports and Resistance in the United States

"Ijeoma Oluo-writing on any subject-is compassionate brilliance personified, and I am so grateful for her work and her voice. She is the first writer I name when anyone asks who they should read to help them think about and navigate issues of race and identity, help them understand what solidarity means and what it requires of all of us. So You Want to Talk About Race is a book for everyone, but especially for people of color who need to feel seen and heard."—Nicole Chung, author of All You Can Ever Know

"Ijeoma Oluo's So You Want to Talk About Race is a welcome gift to us all -- a critical offering during a moment when the hard work of social transformation is hampered by the inability of anyone who benefits from systemic racism to reckon with its costs. Oluo's mandate is clear and powerful: change will not come unless we are brave enough to name and remove the many forces at work strangling freedom. Racial supremacy is but one of those forces."
—Darnell L. Moore, author of No Ashes in the Fire

"Read it, then recommend it to everyone you know."—Harper's Bazaar, "One of 10 Books to Read in 2018"

"Impassioned and unflinching"
—Vogue.com

"Simply put: Ijeoma Oluo is a necessary voice and intellectual for these times, and any time, truth be told. Her ability to write so smartly and honestly with strokes of humor about race in America is heaven sent and demonstrates just how desperately we all need to be talking about race, and perhaps, more importantly, this insightful book shows those in power or privilege how they need to listen."—Phoebe Robinson, New York Times bestselling author of You Can't Touch My Hair and Everything's Trash, But It's Okay

"What Ijeoma Oluo has done, and continues to do, is nothing short of revolutionary -- she has created a conversational guide and laid out a movement-building blueprint for people of all races who are invested in self-assessment, open to being challenged, and committed to collective progress. One of the most important voices of our time, Oluo encourages us to be the conversation starters in our own lives and to keep talking -- someone who needs to hear us is listening."—Feminista Jones, author of Reclaiming Our Space

"I don't think I've ever seen a writer have such an instant, visceral, electric impact on readers. Ijeoma Oluo's intellectual clarity and moral sure-footedness make her the kind of unstoppable force that obliterates the very concept of immovable objects."—Lindy West, New York Times-bestselling author of Shrill

"So You Want to Talk About Race strikes the perfect balance of direct and brutally honest without being preachy or, worse, condescending. Regardless of your comfort level, educational background, or experience when it comes to talking about race, Ijeoma has created a wonderful tool to help broach these conversations and help us work toward a better world for people of color from all walks of life."
—Franchesca Ramsey, host and executive producer of MTV's Decoded and author of Well, That Escalated Quickly

"You are not going to find a more user-friendly examination of race in America than Ijeoma Oluo's fantastic new book. The writing is elegantly simple, which is a real feat when tackling such a thorny issue. Think of it as Race for the Willing-to-Listen."
—Andy Richter, writer and actor

"So You Want to Talk About Race is warm and foundational enough for people beginning their journey to understanding racism in America, and thought-provoking and challenging enough for people who believe themselves to be well-versed on the subject. In short, it's for everyone. Ijeoma's voice cuts through all the noise and stays with you."—Emily V. Gordon, co-writer of The Big Sick and author of Super You: Release Your Inner Superhero

"Fascinating, real, and necessary, a superb compendium reckoning with race, gender, and identity in white America."—The Root

"Ijeoma Oluo is armed with words. Her words are daggers that pierce through injustice, while also disarming you with humor and love."—Hari Kondabolu, comedian, writer, and co-host of Politically Re-Active

"I am in awe of Ijeoma. She is the smartest, most courageous and electrifying young writer on race relations today -- the voice of our times. Let her be your guidepost. She will make you think and she will make you feel. Follow Ijeoma Oluo and thrill to the challenge, beginning right here with So You Want To Talk About Race."—Robin DiAngelo, author of White Fragility

"When you need a super team to help you make sense of today's complex conversation on identity and representation, Ijeoma needs to be your number one pick. No one cuts through the chatter with more humor, insight and clarity. No matter the issue, Ijeoma's thinking is always essential reading."
—Jenny Yang, comedian, writer, and co-founder and co-producer of Dis/orient/ed Comedy

"Oluo has created a brilliant and thought-provoking work. Seamlessly connecting deeply moving personal stories with practical solutions, readers will leave with inspiration and tools to help create personal and societal transformations. A necessary read for any white person seriously committed to better understanding race in the United States."
—Matt McGorry, actor

"Straight talk to blacks and whites about the realities of racism.... A clear and candid contribution to an essential conversation."
—Kirkus Reviews

"Ijeoma Oluo has built a career on speaking truth to power... [here] she offers a guidebook for those who want to confront racism and white supremacy in their everyday lives, but are unsure where to start."
—Bitch

"So You Want to Talk About Race is a phenomenal read and it's helping me articulate conversations I want and need to have."—Adib Khorram, Morris Award­-winning author of Darius the Great Is Not Okay

"With this book, Ijeoma Oluo gives us -- both white people and people of color -- that language to engage in clear, constructive, and confident dialogue with each other about how to deal with racial prejudices and biases."
—National Book Review

"One of the few guiding lights to emerge in our post-election landscape...the goal isn't to call out the 'bad' white people and console the 'good' ones, but to raise the bar for all of us committed to equality and justice."
—The Stranger

"White readers will find answers to many of the questions we might be afraid to ask. Readers who are people of color will find their experiences seen, heard, and believed. All readers will find themselves enraptured."—The Denver VOICE

"Oluo's approach to the complex topic of race in America is direct, helpful, and compassionate."—800-CEO-Reads Staff Picks

"Ijeoma Oluo's work is where candor meets wisdom, where intelligence meets action, where prose meets power. With her indelible combination of lived experience and research, she is one of the most important people writing about this current moment for our country and our world. So You Want to Talk About Race is a book that I have recommended to countless people-and that I will continue to recommend for years to come."—Rakesh Satyal, author of Blue Boy and No One Can Pronounce My Name

"A must-read primer on the politics of American racism."—Bustle