Summertime Sleepers: Animals That Estivate (Hardcover)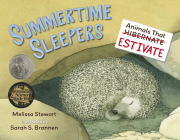 Description
---
Everyone knows about animals that hibernate in the winter. But it's time to discover animals that sleep all summer long!

All science classrooms discuss animals that hibernate during winter months, but few know about animals that estivate--a prolonged sleep during hot or dry periods. Dual layers of text awaken readers to the reasons estivating animals become dormant--whether it's because warm weather threatens food supply or to avoid increased body temperatures. From the ladybug to the salamander, from the lungfish to the desert hedgehog, twelve estivating animals and their habits--both when sleeping and awake--are explained through clear text and elegant watercolor illustrations that create a scrapbook feel.
About the Author
---
Melissa Stewart is the award-winning author of more than one hundred fifty science books for children. She holds degrees in biology and science journalism. Recent books include Seashells: More Than a Home, Feathers: Not Just for Flying; No Monkeys, No Chocolate; and Can an Aardvark Bark?

Sarah S. Brannen is the author and illustrator of Bear Needs Help, Madame Martine, and the illustrator of Feathers: Not Just for Flying; Digging for Troy: From Homer to Hisarlik; and At Home in Her Tomb: Lady Dai and the Ancient Chinese Treasures of Mawangdui. sarahbrannen.yellapalooza.com
Praise For…
---
Hibernating in the summer is a thing for some animals, and Stewart, a science writer, hooks kids on the concept of estivation from page 1. Fun facts about the sleeping habits of a dozen animals like spotted turtles and desert hedgehogs help kids realize that nature is so cool. Brannen's watercolors depicting the species while active and at rest add to the wow factor.
—Parents Magazine

Employing her splendid talent for making science cool, Melissa Stewart (Can an Aardvark Bark?) introduces young readers to creatures that go dormant not through the winter, but during the summer. Hibernation is a well-known concept; estivation less so; Stewart aims to change that. Her enthusiasm for these unfamiliar snoozers, combined with stunningly realistic watercolor illustrations by Sarah S. Brannen (illustrator of Stewart's Feathers: Not Just for Flying), make summer sleepers the superstars in the charming nonfiction picture book Summertime Sleepers: Animals that Estivate.
The main text offers general groupings of animals that estivate: "Some hard-shelled creatures climb up high for a nap.../ ...while others doze underground." Then, in secondary narratives, specific critters take the spotlight: "When the days grow long and hot, land snails cling to tree branches and seal their shells shut. Their heart rates slow, and they barely breathe as they wait for cooler days." To offer even more information for eager learners, a black-and-white logbook page appears amid the lush colors of the illustrations. The page includes the animals' scientific names, sizes and detailed sketches an observer might record while watching them.
Fish, amphibians, reptiles and mammals all appear on the pages of Stewart's ode to summer sleepers. They live in locations around the globe: mountains in Pakistan, rivers in Germany, swamps in Florida. And each adds a distinctive twist to the dormancy state, like the mangrove killifish that "jump across land, flipping head-over-tail, until they find a hollow log" or the pixie frog, which slumbers in a cocoon that it eats at the end of estivation. The facts are fascinating and fun, luring readers further and further into the curious concept of sleeping through the summer. End matter caps off this marvelous book, with "More About Animals that Estivate" and additional reading suggestions.
Brannen's art is as captivating as the information it illuminates. The lifelike depictions include vital intricacies--variegated shading on the shells of the snails, wisps of whiskers on the yellow-bellied marmot--as well as a sense of depth and texture. The illustrations are not only incredibly enjoyable, they're accurate and informative. Summertime Sleepers is a gem that should spark children's interest in science, in the world around them and in the joy of learning. And what better bedtime reading than a book that features everyone sleeping?
Shelf Talker: Melissa Stewart and Sarah Brannen team up again in this dazzling picture book about the wonders of animals that sleep not through the winter, but through the summer.
—Shelf Awareness


While most kids know about hibernators, few have heard of estivators, animals that experience a prolonged dormant state during the summer. This colorful book introduces a dozen summer sleepers. Each appears on a double-page spread complete with a sentence in large type, a somewhat longer section of text in smaller type, and a notebook-style feature that includes sketches of the animal and indicates its actual size, range location, and scientific name. Representing groups as diverse as insects, crustaceans, fish, amphibians, reptiles, and mammals, the animals include the tiny mangrove killifish that flips head-over-tail until it lands in a water-filled hollow log, and the versatile yellow-bellied marmot, which outdoes itself by hibernating and estivating. Some animals use burrows abandoned by other creatures, while others make their own nests for estivation. Stewart's lively text offers entertaining factoids while clearly explaining how different animals use estivation to survive in hot, dry places. Brannen's pleasing illustrations, both sketches and watercolor scenes, enable the audience to envision the animals within their habitats. An attractive science book on an uncommon but interesting topic.
—Booklist
New Spring Hours!! Monday to Saturday 10:00 a.m. to 7:00 p.m.
--New Sunday Hours: 12:00 p.m. to 6:00 p.m.
We are here for limited in-store browsing and contactless parking lot pickup.
**Order online any time.