Flatland: A Romance Of Many Dimensions (Paperback)
*USPS shipping is taking up to 2-3 weeks instead of 2-7 days, please consider contactless Parking Lot Pickup if you are in the area.
Please Note: Most of the anti-racism books that say 'on our shelves now' are on hold already for customers. We are hoping that they will be back in stock at the warehouse around the middle of June. Thank you for your patience.
Stamped from the Beginning: The Definitive History of Racist Ideas in America (Paperback) is back in stock, limited quantities available.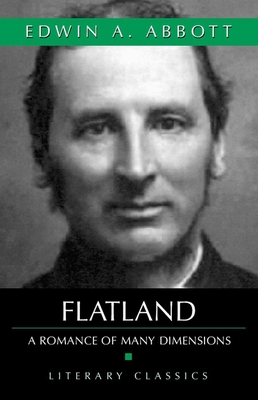 List Price: $13.99
Our Price: $12.59
(Save: $1.40 10%)
Unavailable from Warehouse - May take longer to order
Description
---
This highly original and entertaining short novel (which has been in print continually since its original publication in 1884) tells the story of A. Square, an inhabitant of the two-dimensional world Flatland. After an overview of Flatland society in all its aspects, A. Square recounts how he was led on a series of visions and travels to Pointland, Lineland, and Spaceland by A. Sphere on the last day of Flatland's year 1999. Through his encounters with these other lands, A. Square realizes that there is indeed more to the universe than the world he lives in. A. Sphere opens A. Square's mind to new possibilities, illuminating the path to knowledge through careful observation and commonsense experimentation. But when A. Square can be contented no longer with what he has already seen, he dreams of visiting a land of four dimensions, the so-called Thoughtland. As in real life, such desires are met with sometimes-violent opposition from society's leaders in the name of maintaining the status quo.

Victorian clergyman and Shakespearean scholar Edwin Abbott penned this mathematical allegory about the dawn of reason seemingly in response to the puritanical environment of his era. Touching on themes of humanity's insatiable quest for truth, authority's tendency to squash radical ideas born from this quest, and the necessity of curiosity, Flatland is an odd and charming little book whose impact far surpasses its concise prose.
About the Author
---
Edwin A. Abbott was born in London on December 20, 1838,  the  son  of  the  headmaster  of  the  Philological School  in  Marylebone.  Educated  at  the  City  of  London School and at St. John's College in Cambridge, he received highest  honors  in  the  classics,  mathematics,  and  theology. After graduation Abbott married and became a minister. In addition  to  holding  positions  at  King  Edward's  School  in Birmingham  and  at  Clifton  College  in  Bristol,  he became headmaster of the City of London School in 1865—a position he held for twenty-five years. He was considered one of  the greatest teachers of his era.

Abbott retired in 1889 to devote himself  to his literary and theological pursuits. Although most remembered for his mathematical  satire  Flatland:  A  Romance  of  Many  Dimensions, published under the pseudonym A. Square, he authored many other  books.  Among  his  many  works  are  Shakespearean Grammar (1870); Francis Bacon: His Life and Works (1885); the anonymous  theological  discussion  The  Kernel  and  the  Husk (1886);  three  anonymously  published  religious  romances— Philochristus  (1878),  Onesimus  (1882),  and  Sitanus  (1906); Philomythus  (1891);  The  Anglican  Career  of  Cardinal  Newman (1892); St. Thomas of  Canterbury, His Death and Miracles (1898); as  well  as  "The  Gospels,"  an  article  published  in  the  ninth edition of the Encyclopedia Britannica.

Abbott died on October 12, 1926.