Layla's Happiness (Hardcover)
*USPS shipping is taking up to 2-3 weeks instead of 2-7 days, please consider contactless Parking Lot Pickup if you are in the area.
Please Note: Most of the anti-racism books that say 'on our shelves now' are on hold already for customers. We are hoping that they will be back in stock at the warehouse around the middle of June. Thank you for your patience.
Stamped from the Beginning: The Definitive History of Racist Ideas in America (Paperback) is back in stock, limited quantities available.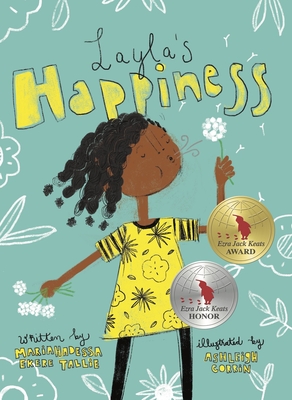 List Price: $17.95
Our Price: $16.16
(Save: $1.80 10%)
Staff Reviews
---
"Layla is seven, and she loves the night—and wearing purple masks and capes, and being outside, and playing with her friend Juan, and reading poetry with her mom! This is the story of her family, her community, her city, and her happiness: a loving poem by our own Mariahadessa Ekere Tallie of Brown's Theater Arts and Performance Studies Department, illustrated in bold, joyful colors by Ashleigh Corrin. Layla's happiness is catching—a soul- sparking reminder to hold our breath sometimes and pause to watch a plant grow or blow a wish to the moon. It is my deep happiness to share this beautiful, introspective book by two Black women, telling the story of a small Black girl's joy, with all hearts, young and old."
Description
---
"Affirmations of black childhood abound, and whimsical wishes float like dandelion fluff. Equally as imaginative as the lyrical text, Corrin's boldly colored, textured illustrations beautifully capture the buoyant spirit of Layla, a brown girl exuding confidence, comfortable in her own skin--indoors and out. Well-illustrated poetry of the best kind that will leave sunshine in its wake." -STARRED REVIEW, Kirkus
Seven-year-old Layla loves life So she keeps a happiness book. What is happiness for her? For you?
Spirited and observant, Layla is a child who's been given room to grow, making happiness both thoughtful and intimate. It's her dad talking about growing-up in South Carolina; her mom reading poetry; her best friend Juan, the community garden, and so much more. Written by poet Mariahadessa Ekere Tallie and illustrated by Ashleigh Corrin, this is a story of flourishing within family and community.
About the Author
---
Mariahadessa Ekere Tallie was born in Queens, NY. Tallie has performed poetry & taught in the US, Namibia, The Netherlands, Belgium, & England. She has also authored several collections of poetry and is the mother of three galaxies who look like daughters. Ashleigh Corrin is a graphic designer by day, illustrator by night, residing in Northern VA with her husband. Her talent comes from her late Grandmother who has inspired Ashleigh to serve people's unique stories with creativity. With her illustrations, Ashleigh hopes to contribute to good laughs, nostalgia, vulnerability, transparency, and seeing the light in ourselves and others.