The Van Apfel Girls Are Gone (Paperback)
We will be closed on Saturday, July 4th in observance of Independence Day.
We are available Monday to Saturday 10:00 a.m. to 4:00 p.m. for Limited Browsing, Order Pickup, Phone Orders, and Contactless Parking Lot Pickup. Order online 24 hours a day.
**Free Local Area Delivery on Tuesday and Friday**
*USPS shipping is taking up to 2-3 weeks instead of 2-7 days, please consider contactless Parking Lot Pickup if you are in the area.
Please Note: Many of the high demand books that say 'On our Shelves Now' are on hold for other customers. We are hoping that they will be back in stock at the warehouse around the middle of June. Thank you for your patience.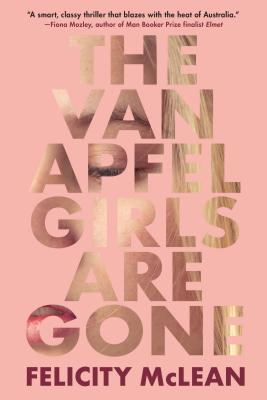 List Price: $15.95
Our Price: $14.36
(Save: $1.60 10%)
Staff Reviews
---
"It's the summer of 1992 the Van Apfel girls have disappeared from their Australian suburb. Has something sinister taken place or was this a desperate act of escape? Told from the point of view of their neighbor, Tikka, this novel explores the lives of five girls at the cusp of womanhood and how a traumatic event can forever change the lives of those who are left behind. Equal parts heartbreaking, suspenseful and humorous, The Van Apfel Girls Are Gone is a wonderful story of a woman coming to terms with her past."--Reviewed by Matt
— From
Matt Recommends
Description
---
"ONE PART MYSTERY, ONE MILLION PARTS AMAZING."
—Cosmopolitan

A Recommended Summer Read from Entertainment Weekly * Bustle * Nylon * Cosmopolitan

"How do you escape your childhood, emotionally, actually?  This compelling mystery has a rare depth of psychological and emotional truth. It will engage your heart." —Delia Ephron, New York Times bestselling author of Siracusa
Tikka Malloy was eleven and one-sixth years old during the long, hot, Australian summer of 1992. The TV news in the background chattered with debate about the exoneration of Lindy ("dingo took my baby") Chamberlain. That summer was when the Van Apfel sisters--Ruth, Hannah, and the beautiful Cordelia--mysteriously disappeared. Did they just run far away from their harsh, evangelical parents, or were they taken? While the search for the girls united the small community, the mystery of their disappearance was never solved, and Tikka and her older sister, Laura, have been haunted ever since by the loss of their friends and playmates.
Now, years later, Tikka has returned home to try to make sense of that strange moment in time.
Part mystery, part darkly comic coming-of-age story, 
The Van Apfel Girls Are Gone
 is a page-turning read--with a dark, shimmering absence at its heart.
About the Author
---
Felicity McLean is an author and journalist. Her writing has appeared in major newspapers and magazines, and she has ghostwritten six books. She lives in Australia. This is her first novel.
Praise For…
---
"Suspenseful and haunting."
—People

"If there's a more compelling summer book description than 'The Virgin Suicides-meets-Picnic at Hanging Rock,' I don't know what it would be. Such was the description given to me about this book, and it doesn't disappoint."
—Nylon, Best Books of Summer

"One part mystery, one million parts amazing, this debut from Felicity McLean will be a summer fave."
—Cosmopolitan, Best Books of June

"This brand-new debut novel by Felicity McLean has all of the ingredients of a perfect summer beach read and is one of the most anticipated books to read in 2019: it's a beautifully written, scenic thriller that's at once comical and darkly terrifying."
—Readers Digest, Best Books of Summer

"Suffused with the same tantalizing intensity as Picnic at Hanging Rock, it's the time-slip narrative of three sisters who went missing in the summer of 1992 . . . readers who enjoy something haunting, atmospheric and genuinely mysterious have a treat in store."
—The Guardian

"McLean peels back the layers of one scorching Australian summer, revealing the dark secrets and lies hidden behind the cheerful facade of suburbia. This debut, part coming-of-age story and part crime thriller, is both forceful and unnerving."
—Publishers Weekly

"The story is a compelling one, with a nice layer of suspense that keeps the pages turning until its hauntingly melancholy end."
—Booklist

"A wry, sad coming-of-age story and a well-crafted first novel."
—Kirkus Reviews

"This debut coming-of-age mystery is a haunting story of bewilderment and lost innocence . . . The news stories and descriptions evoke 1990s Australia in this engrossing, atmospheric debut. Fans of William Kent Krueger's Ordinary Grace may want to try."
—Library Journal, starred review

"Dashed with the appeal of The Virgin Suicides and Picnic at Hanging Rock, this tense coming-of-age story recounts the mysterious disappearance of three sisters in a small Australian town."
—Entertainment Weekly

"Containing summer friendships, whispered secrets, and a dark, hidden truth, Felicity McLean's The Van Apfel Girls Are Gone is poignant and jarring . . . a blazingly well-written, impressive, and deeply satisfying thriller."
—Foreword Reviews, starred review

"The Van Apfel Girls Are Gone is a well-layered puzzle with unexplained pieces to spare. At the core of this gripping debut novel are the uncertain perceptions of young Tikka and 2012 Tikka, still partially trapped in her 11-year-old self. McLean's often striking prose swirls deftly between the two Tikkas as suspicions begin to emerge—about the Van Apfels and their violently pious patriarch, Cordie's broken arm, and the school's first male teacher. A slow burn that maintains an electric current of dread, the narrative is also cleverly colored by the underpinning of the infamous Chamberlain case. Although more than 30 years later it was confirmed that Lindy Chamberlain's baby was indeed snatched by a dingo, the Van Apfel girls may get no such closure."
—Shelf Awareness, starred review

"An intriguing, charge-ahead work with real pathos at its center."
—Library Journal

"Where McLean shines, and where the real strength of the book lies, is in her pitch-perfect character development and creation of a sense of place. The setting of Australia is a character in and of itself, and McLean immerses her readers in it seamlessly and beautifully; you can practically feel the sun beating down on you and smell the stench wafting up from the river through the gully as you read. At the same time, the dialogue between the young girls is delightful . . . Equal parts The Virgin Suicides and Picnic at Hanging Rock, with a ton of Australian personality thrown in, McLean's debut novel is sharp, endearing and unforgettable."
—Bookreporter.com

"McLean weaves a hypnotic story that gives off its own sort of magic as it reveals the darkness that often lies just beneath the mundanity of everyday life. This one is a must-read and marks the author as one to watch."
—Criminal Element
 
"The story of the missing Van Apfel girls examines where responsibility lies when one is caught between doubt and certainty. Or, as Tikka reflects: 'I was responsible and not guilty. I was both things, and neither. Like the valley: a thing and a void.' "
—The Washington Independent Review of Books

"A taut, beautifully written thriller with a scorching expansive setting. The Van Apfel Girls Are Gone is a fantastic debut and a story that lingers."
—Lisa Ballantyne, author of Everything She Forgot

"I deeply admire the languid, lived-in prose of Felicity McLean's lovely novel The Van Apfel Girls Are Gone. This is a story as much about forgiving ourselves our own childhoods, as it is about acknowledging and embracing the people we've become because of those adolescent (and sometimes life altering) choices."
—Hannah Pittard, author of Visible Empire

"Engrossing and goosebumpy from start to finish, this novel about three young sisters who vanish all together one night has the chilling feel of true events that are stranger than fiction, and the stuff of nightmares. But the magic of McLean's art is not just her gift for evoking, in almost hallucinogenic detail, her haunted narrator's childhood—a time and place linked to Australia's notorious true-life story of a baby dragged off in the night by a wild animal—but to do so in the most charming and irresistible of narrative voices. The result is a novel that is as delightful as it is terrifying, and just scary good."
—Tim Johnston, bestselling author of Descent and The Current

"A smart, classy thriller that blazes with the heat of Australia and slowly reveals its many layers."
—
Fiona Mozley, author of Elmet, 2017 Man Booker Prize finalist
"A smart debut. Beautifully atmospheric with its great sense of time and place."
—Melina Marchetta, author of On the Jellicoe Road

"McLean expertly maintains an air of suspense as the tragedy unfolds. Tikka is an unforgettable, if not entirely reliable, narrator full of black humour, brutal honesty and naive curiosity. This novel is one that will haunt readers long after they have turned the last page."
—Books+Publishing (Australia)

"How do you escape your childhood, emotionally, actually?  This compelling mystery by Felicity McLean has a rare depth of psychological and emotional truth. It will engage your heart."
—Delia Ephron, New York Times bestselling author of Siracusa