Birds of a Feather (Maisie Dobbs #2) (Paperback)
We are available Monday to Saturday 10:00 a.m. to 5:00 p.m. for Limited Browsing, Order Pickup, Phone Orders, and Contactless Parking Lot Pickup. Order online 24 hours a day.
**Free Local Area Delivery on Tuesday and Friday**
*USPS shipping is taking up to 2-3 weeks instead of 2-7 days, please consider contactless Parking Lot Pickup if you are in the area.
Please Note: Many of the high demand books that say 'On our Shelves Now' are on hold for other customers. We are hoping that they will be back in stock at the warehouse around the middle of June. Thank you for your patience.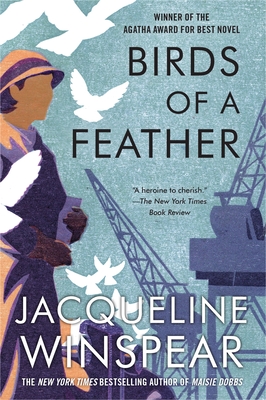 List Price: $16.95
Our Price: $15.26
(Save: $1.70 10%)
Sold Out--Can order from warehouse
Other Books in Series
This is book number 2 in the Maisie Dobbs series.
Description
---
The second Maisie Dobbs mystery

Jacqueline Winspear's marvelous debut, Maisie Dobbs, won her fans from around the world and raised her intuitive, intelligent, and resourceful heroine to the ranks of literature's favorite sleuths. Birds of a Feather, its follow-up, finds psychologist and private investigator Maisie Dobbs on another dangerously intriguing adventure in London "between the wars." It is the spring of 1930, and Maisie has been hired to find a runaway heiress. But what seems a simple case at the outset soon becomes increasingly complicated when three of the heiress's old friends are found dead. Is there a connection between the woman's mysterious disappearance and the murders? Who would want to kill three seemingly respectable young women? As Maisie investigates, she discovers that the answers lie in the unforgettable agony of the Great War.
About the Author
---
Jacqueline Winspear is the author of New York Times bestselling Maisie Dobbs series, as well as The Care and Management of Lies, a novel of World War I. Originally from Kent, England, she now lives in California.
Praise For…
---
Praise for Birds of a Feather

A favorite mystery series of Hillary Clinton (as mentioned in What Happened, The New York Times Book Review, and New York Magazine)
Winner of the Agatha Award for Best Novel

"Haunting . . . What makes Maisie such a remarkable operative is the holistic philosophy that informs her humane methods . . . A heroine to cherish."
—The New York Times Book Review

"Birds of a Feather succeeds both as a suspenseful mystery and as a picture of a time and place . . . Maisie's liveliness of mind, good sense, and kind nature make her a heroine a reader can enjoy spending time with."
—The Boston Globe

"If you like classic mysteries . . . you'll love Winspear's Birds of a Feather."
—The Denver Post
 
"The eponymous heroine of Winspear's promising debut, Maisie Dobbs (2003), continues to beguile in this chilling, suspenseful sequel . . . As in her first novel, the author gives an intelligent and absorbing picture of the period, providing plentiful details for the history buff without detracting from the riveting mystery. Readers will be eager to see more of the spunky Maisie."
—Publishers Weekly, Starred Review


Praise for Maisie Dobbs
A New York Times Notable Book of the Year
Agatha Award Winner for Best First Novel
Macavity Award Winner for Best First Novel
Alex Award Winner

"Compelling . . . powerful. [Maisie Dobbs] testifies to the enduring allure of the traditional mystery . . . even though I knew what was coming this second time 'round, its final scene is still a punch in the gut."
—Maureen Corrigan for NPR's Fresh Air, speaking on the 10th Anniversary edition of Maisie Dobbs

"[A] deft debut novel . . . Romantic readers sensing a story-within-a-story won't be disappointed. But first they must be prepared to be astonished at the sensitivity and wisdom with which Maisie resolves her first professional assignment."
—The New York Times

"The reader familiar with Alexander McCall Smith's The No. 1 Ladies Detective Agency . . . might think of Maisie Dobbs as its British counterpart . . . [Winspear] has created a winning character about whom readers will want to read more."
—The Associated Press

"[Maisie Dobbs] catches the sorrow of a lost generation in the character of one exceptional woman."
—Chicago Tribune

"A fine new sleuth for the twenty-first century. Simultaneously self-reliant and vulnerable, Maisie isn't a character I'll easily forget."
—Elizabeth George, #1 New York Times Bestselling author of the Inspector Lynley series