Dragon Hoops (Hardcover)
We will be closed on Saturday, July 4th in observance of Independence Day.
We are available Monday to Saturday 10:00 a.m. to 4:00 p.m. for Limited Browsing, Order Pickup, Phone Orders, and Contactless Parking Lot Pickup. Order online 24 hours a day.
**Free Local Area Delivery on Tuesday and Friday**
*USPS shipping is taking up to 2-3 weeks instead of 2-7 days, please consider contactless Parking Lot Pickup if you are in the area.
Please Note: Many of the high demand books that say 'On our Shelves Now' are on hold for other customers. We are hoping that they will be back in stock at the warehouse around the middle of June. Thank you for your patience.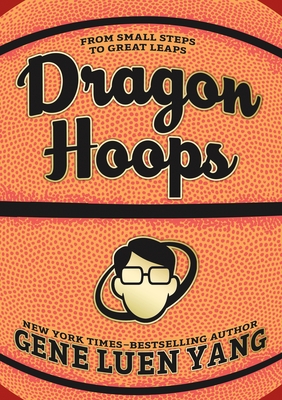 List Price: $24.99
Our Price: $22.49
(Save: $2.50 10%)
Spring 2020 Kids Indie Next List
---
"In this immensely fun book, Yang lays out what could be a rote story in an entertaining fashion, splicing in the history of basketball, the backstories of several team members, and his own personal life to keep readers on their toes. While the book is nonfiction, it reads like a novel."
— Paul Swydan, The Silver Unicorn Bookstore, Acton, MA
Description
---
In his latest graphic novel, Dragon Hoops, New York Times bestselling author Gene Luen Yang turns the spotlight on his life, his family, and the high school where he teaches.

Gene understands stories—comic book stories, in particular. Big action. Bigger thrills. And the hero always wins.

But Gene doesn't get sports. As a kid, his friends called him "Stick" and every basketball game he played ended in pain. He lost interest in basketball long ago, but at the high school where he now teaches, it's all anyone can talk about. The men's varsity team, the Dragons, is having a phenomenal season that's been decades in the making. Each victory brings them closer to their ultimate goal: the California State Championships.

Once Gene gets to know these young all-stars, he realizes that their story is just as thrilling as anything he's seen on a comic book page. He knows he has to follow this epic to its end. What he doesn't know yet is that this season is not only going to change the Dragons's lives, but his own life as well.
About the Author
---
Gene Luen Yang writes, and sometimes draws, comic books and graphic novels. As the Library of Congress' fifth National Ambassador for Young People's Literature, he advocates for the importance of reading, especially reading diversely. American Born Chinese, his first graphic novel from First Second Books, was a National Book Award finalist, as well as the winner of the Printz Award and an Eisner Award. His two-volume graphic novel Boxers & Saints won the L.A. Times Book Prize and was a National Book Award Finalist. His other works include Secret Coders (with Mike Holmes), The Shadow Hero (with Sonny Liew), New Super-Man from DC Comics (with various artists), and the Avatar: The Last Airbender series from Dark Horse Comics (with Gurihiru). In 2016, he was named a MacArthur Foundation Fellow.
Praise For…
---
"While the action on the court is absolutely transfixing (with page layouts often using trapezoid-shaped panels whose diagonal lines amp up the dynamism), the story shines just as brightly off the court when Yang's focus shifts to his own dilemmas and profound insights regarding art and storytelling. ...here [Dragon Hoops] is a perfect entryway into this form [single-season reportage] for teen readers."—Horn Book, starred review

"Yang's cartooning skills have never been sharper, and the large cast of characters gives him the opportunity to flex his acting muscles and his ability to simplify faces and bodies while keeping distinct features. ...Dragon Hoops has a long life ahead of it in libraries and classrooms, bridging comics and sports in a story that offers plenty of opportunities for meaningful discussion."—AV Club

"At more than 400 full-color pages, Dragon Hoops is an impressive feat of illustrated journalism. Above all else, Yang considers himself a storyteller, and Dragon Hoops affords him the opportunity to devise a narrative that is both personal in its approach and universal in its presentation. ...Yang relishes the versatility of the medium, with a style that's accessible and dynamic."—Oakland Magazine

"While [Dragon Hoops] traverses and weaves together different story lines throughout the season — Yang's own life; the lives of players on the team; the various contexts and trajectories of basketball's development as a sport — the call to courage spills into every narrative."—San Francisco Chronicle

"Dragon Hoops winningly chronicles the postseason hopes of the basketball team at the Oakland high school where [Gene Luen Yang] taught for 17 years."—Washington Post

"Yang is an extraordinary cartoonist...through recurring visual motifs that connect a champion basketball player to a self-questioning artist to a Russian immigrant with a new idea, he illuminates the risks that every one of us must take and has, once again, produced a work of resounding humanity." —Booklist, starred review

"As Yang taps into subjects as varied as assimilation and discrimination in America...readers learn how this low-cost, indoor game leveled racial, gender, and international boundaries to attain global prominence. Another standout showing from Yang, this title will have even sports haters on their feet cheering." —School Library Journal, starred review

"Using a candid narrative and signature illustrations that effectively and dynamically bring the fast-paced games to life, Yang has crafted a triumphant, telescopic graphic memoir that explores the effects of legacy and the power of taking a single first step, no matter the outcome." —Publisher's Weekly, starred review

"On-court action is impeccably paced in swift cuts...expect a warm reception from both the sports fiction crowd and open-minded nerds willing to explore what all the seasonal fuss is all about. " —The Bulletin of the Center for Children's Books, starred review

"The full-color illustrations are varied in layout, effectively conveying intense emotion and heart-stopping action on the court...A winner." —Kirkus