The Art of Protest Postcards (Set of 4) (Postcards)
New Winter Hours!! Monday to Saturday 10:00 a.m. to 7:00 p.m.
--Sunday 10:00 a.m. to 5:00 p.m.
We are here for limited in-store browsing and contactless parking lot pickup.
**Order online any time.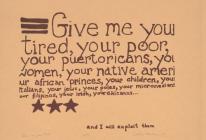 Exclusive for Independent Bookstore Day - Limited quantities available
Description
---
In collaboration with Amnesty International, Jo Rippon presents a stunning range of more than a hundred protest posters, from the iconic to the obscure. The civil rights movement, the fall of the Berlin Wall, and the global outcry against the Iraq war all make their cameos in this comprehensive collection.
These postcards, collected from the book, are perfect for correspondence, collections, and wall art.
About the Author
---
Jo Rippon first engaged in activism when she was eleven years old. An image of a devastated Amazon rain forest-inspired her to become a vegetarian and take a stand against a big corporation that was clearing rainforests to farm beef. Jo is a writer and editor of books for adults on music and art. She lives in London.