A Russian Immigrant: Three Novellas (Paperback)
We are available Monday to Saturday 10:00 a.m. to 5:00 p.m. for Limited Browsing, Order Pickup, Phone Orders, and Contactless Parking Lot Pickup. Order online 24 hours a day.
**Free Local Area Delivery on Tuesday and Friday**
*USPS shipping is taking up to 2-3 weeks instead of 2-7 days, please consider contactless Parking Lot Pickup if you are in the area.
Please Note: Many of the high demand books that say 'On our Shelves Now' are on hold for other customers. We are hoping that they will be back in stock at the warehouse around the middle of June. Thank you for your patience.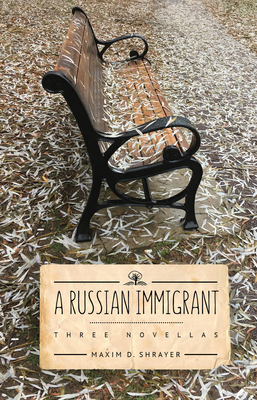 List Price: $19.95
Our Price: $17.96
(Save: $2.00 10%)
Sold Out--Can order from warehouse
Description
---
"A quietly powerful addition to the canon of migr literature" --The Moscow Times
No longer at home in Russia, but not quite assimilated into the American mainstream, the daily lives of Russian immigrants are fueled by a combustible mix of success and alienation. Simon Reznikov, the Boston-based immigrant protagonist of Maxim D. Shrayer's A Russian Immigrant, is restless. Unresolved feelings about his Jewish (and American) present and his Russian (and Soviet) past prevent Reznikov from easily putting down roots in his new country. A visit to a decaying summer resort in the Catskills, now populated by Jewish ghosts of Soviet history, which include a famous migr writer, reveals to Reznikov that he, too, is a prisoner of his past. An expedition to Prague in search of clues for an elusive Jewish writer's biography exposes Reznikov's own inability to move on. A chance reunion with a former Russian lover, now also an immigrant living in an affluent part of Connecticut, unearths memories of Reznikov's last Soviet summer while reanimating many contradictors of a mixed, Jewish-Russian marriage.
Told both linearly and non-linearly, with elements of suspense, mystery and crime, these three interconnected novellas gradually reveal many layers of the characters' Russian, Jewish, and Soviet identities. Vectors of love and desire, nostalgia and amnesia, violence and forgiveness, politics and aesthetics guide Shrayer's immigrant characters while also disorienting them in their new American lives. Set in Providence, New Haven and Boston, but also in places of the main character's pilgrimages such as Estonia and Bohemia, Shrayer's book weaves together a literary manifesto of Russian Jews in America.
About the Author
---
Maxim D. Shrayer, a translingual author, scholar and translator, is Professor of Russian, English, and Jewish Studies at Boston College and Director of the Project on Russian and Eurasian Jewry at Harvard's Davis Center. Born in Moscow in 1967 to a writer's family, Shrayer emigrated to the United States in 1987. He has authored and edited over fifteen books in English and Russian, among them the internationally acclaimed memoirs "Leaving Russia: A Jewish Story" and "Waiting for America: A Story of Emigration," the story collection "Yom Kippur in Amsterdam," and the anthology Voices of Jewish-Russian Literature. His works have been translated into nine languages. Shrayer won a 2007 National Jewish Book Award, and in 2012 he received a Guggenheim Fellowship. Visit Shrayer's website at www.shrayer.com.