Mending the Moon (Hardcover)
Closed Monday, May 29th for Memorial Day.
Monday to Thursday 10AM to 7PM--Friday & Saturday 10AM to 8PM
--Sunday: 10AM to 6PM **Order online anytime**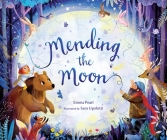 $18.99

Sold Out--Can order from warehouse
Staff Reviews
---
"Reading Mending the Moon is like receiving a warm hug on a chilly winter's night. Emma Pearl's depiction of a young girl's loving relationship with her grandfather, Poppa, and how they work alongside nature to repair the moon has all the makings of a modern folktale. Sarah Ugolotti's illustrations perfectly complement the whimsical and warm narrative. Fun fact: Roald Dahl is Pearl's great uncle and he dedicated The Twits to her!"--Reviewed by Cristina
Description
---
One fateful night, the moon shines so big and so bright that it is too heavy to hold itself up in the sky. When it tumbles down and breaks into many glimmering pieces, Luna sees the whole thing. Her grandfather Poppa warns that without the moon in the sky, the oceans will stop moving and the earth will start to wobble. Luna and Poppa must mend it, but they may not be able to do it all on their own.

The mountain is alive with creatures big and small whose watchful eyes also saw the moon fall. Together, can they find all the shards, stick them together, and get the moon safely back into the sky?

In this enchanting tale with a timeless, folklore feel, a girl, her grandfather, and all the animals of the mountain hold the power to set the world right and forever leave their mark on the moon.
About the Author
---
Emma Pearl has been writing about the moon since she was a young girl. Today, she lives in Toko, New Zealand in the shadow of Mount Taranaki, a mountain much like the one where Luna and Poppa find the broken moon. She finds inspiration for her stories everywhere, but especially in her children. This is her debut picture book.

Sara Ugolotti loves watching the moon, especially in those moments when it is brightly colored and big. When she's not working as a full-time illustrator, she also enjoys photography, travel, and cooking. The books she has illustrated include The Story Thief (Bloomsbury) and Up in the Air (DK Books). Sara lives in Reggio Emilia, Italy.
Praise For…
---
"[A] magical story reminiscent of beloved folk tales." —Foreword Reviews, starred review

"[A]n ingenious explanation for the moon's markings." —Kirkus Reviews