Wherever I Go (Compact Disc)
Closing at 4:00 p.m. on Wednesday, November 25th.
Closed on Thursday, November 26th for Thanksgiving.
Open Friday, 11/27 from 10:00 a.m. to 8:00 p.m.
New Expanded Hours!! Monday to Thursday 10:00 a.m. to 7:00 p.m.
--Friday & Saturday 10:00 a.m. to 8:00 p.m.--Sunday 10:00 a.m. to 6:00 p.m.
We are here for limited in-store browsing and contactless parking lot pickup. Order online any time.
**If you are shipping an online order, please order by 11/30/2020 to ensure holiday delivery.**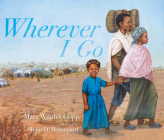 $14.99
Sold Out--Can order from warehouse
Local author and illustrator - Request a signed copy!
We may have signed copies in stock, but we can also ask the author/illustrator to come in and sign more.  Please give us a little time if this is the case, especially during this time.
Description
---
Of all her friends, Abia has been at the Shimelba Refugee Camp the longest--seven years, four months, and sixteen days. Papa says that's too long and they need a forever home. Until then, though, Abia has something important to do. Be a queen. Sometimes she's a noisy queen, banging on her drum as she and Mama wait in the long line for rice to cook for dinner. Sometimes she's a quiet queen, cuddling her baby cousin to sleep while Auntie is away collecting firewood. And sometimes, when Papa talks hopefully of their future forever home, Abia is a little nervous. Forever homes are in strange and faraway places--will she still be a queen? Filled with hope, love, and respect, Wherever I Go is a timely tribute to the strength and courage of refugees around the world.