Me and White Supremacy: Combat Racism, Change the World, and Become a Good Ancestor (Hardcover)
*USPS shipping is taking up to 2-3 weeks instead of 2-7 days, please consider contactless Parking Lot Pickup if you are in the area.
Please Note: Most of the anti-racism books that say 'on our shelves now' are on hold already for customers. We are hoping that they will be back in stock at the warehouse around the middle of June. Thank you for your patience.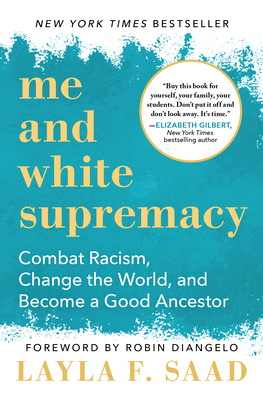 List Price: $25.99
Our Price: $23.39
(Save: $2.60 10%)
Backordered - Unable to Order at this Time
Description
---
The New York Times and USA Today bestseller
"Layla Saad is one of the most important and valuable teachers we have right now on the subject of white supremacy and racial injustice."--New York Times bestselling author Elizabeth Gilbert
Based on the viral Instagram challenge that captivated participants worldwide, Me and White Supremacy takes readers on a 28-day journey of how to dismantle the privilege within themselves so that they can stop (often unconsciously) inflicting damage on people of color, and in turn, help other white people do better, too.
When Layla Saad began an Instagram challenge called #meandwhitesupremacy, she never predicted it would spread as widely as it did. She encouraged people to own up and share their racist behaviors, big and small. She was looking for truth, and she got it. Thousands of people participated in the challenge, and nearly 100,000 people downloaded the Me and White Supremacy Workbook.
Updated and expanded from the original workbook, Me and White Supremacy, takes the work deeper by adding more historical and cultural contexts, sharing moving stories and anecdotes, and including expanded definitions, examples, and further resources.
Awareness leads to action, and action leads to change. The numbers show that readers are ready to do this work--let's give it to them.
Additional Praise for Me and White Supremacy:
"Allyship means taking action. How? Layla Saad's Me and White Supremacy teaches readers exactly how to get past the paralysis of white fragility so that they can build bridges, not walls. Read the book, look deep within yourself, sit with your discomfort, and then act. This is how we can truly say we are doing everything we can to combat white supremacy."--Sophia Bush, award-winning actress and activist
"She is no-joke changing the world and, for what it's worth, the way I live my life."--Anne Hathaway "Layla Saad moves her readers from their heads into their hearts, and ultimately, into their practice. We won't end white supremacy through an intellectual understanding alone; we must put that understanding into action." --Robin DiAngelo, author of
New York Times
bestseller
White Fragility