Benjamin's Blue Feet (Hardcover)
We are available Monday to Saturday 10:00 a.m. to 5:00 p.m. for Limited Browsing, Order Pickup, Phone Orders, and Contactless Parking Lot Pickup. Order online 24 hours a day.
**Free Local Area Delivery on Tuesday and Friday**
Please Note: Many of the high demand books that say 'On our Shelves Now' are on hold for other customers. You can place an order and we will let you know when they come back in stock. Thank you for your patience.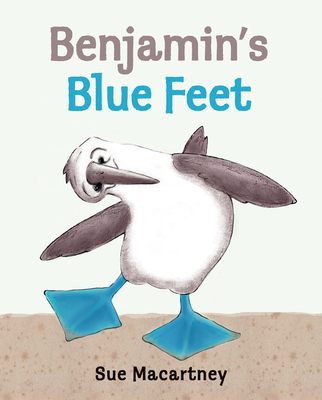 List Price: $17.95
Our Price: $16.16
(Save: $1.80 10%)
Sold Out--Can order from warehouse
Description
---
A young bird with a flair for discovery and invention learns self-acceptance one blue-footed step at a time.
Benjamin the blue-footed booby is coming of age in his flock's world of flying, diving, swimming, and fishing. But he already has a unique gift: treasure-hunting. One day, after finding a mirror, Benjamin becomes convinced that his beak is too long, his wings are too wide, and his feet are too big and blue. He decides to use his treasures to change himself.
But without his beak, wings, and feet, is he even a blue-footed booby anymore?
Illustrated with Sue Macartney's lively, light graphic art style, Benjamin's Blue Feet is a playful, jovial picture book about self-image and self-worth. Packed with humor and heart, it is sure to become a new storytime favorite.