Wine Trails - Europe (Hardcover)
We will be closed on Saturday, July 4th in observance of Independence Day.
We are available Monday to Saturday 10:00 a.m. to 4:00 p.m. for Limited Browsing, Order Pickup, Phone Orders, and Contactless Parking Lot Pickup. Order online 24 hours a day.
**Free Local Area Delivery on Tuesday and Friday**
*USPS shipping is taking up to 2-3 weeks instead of 2-7 days, please consider contactless Parking Lot Pickup if you are in the area.
Please Note: Many of the high demand books that say 'On our Shelves Now' are on hold for other customers. We are hoping that they will be back in stock at the warehouse around the middle of June. Thank you for your patience.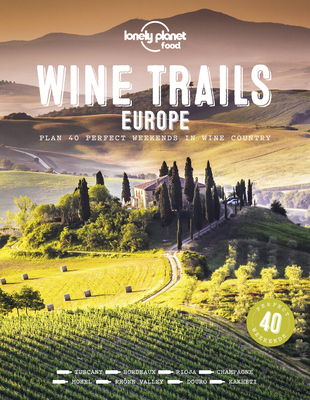 List Price: $20.00
Our Price: $18.00
(Save: $2.00 10%)
Description
---
Lonely Planet's new Wine Trails - Europe book is your guide to the perfect European wine getaway. Featuring Europe's most exciting and up-and-coming wine destinations, discover cult favourites and secret gems. Journey through 40 trails, from Vienna's urban vineyards to Portugal's Alentejo region, with the help of our regional wine experts who introduce you to each old world destination.
In every region, expert writers - including Masters of Wine Caroline Gilby and Anne Krebiehl and critics and columnists Sarah Ahmed, Tara Q. Thomas and John Brunton - review the most rewarding wineries to visit and the most memorable and quaffable wines to taste. Whether it be a chilled glass of rosé in picturesque Provence or a savoury, dry Fino sherry in Andalucia, all bases are covered in this comprehensive guide to Europe's best wine-making regions.
You'll venture into historic, world-famous wineries, through celebrated cellar doors and will discover some unsung heroes along the way. Bottoms up!
About Lonely Planet: Lonely Planet is a leading travel media company and the world's number one travel guidebook brand, providing both inspiring and trustworthy information for every kind of traveller since 1973. Over the past four decades, we've printed over 145 million guidebooks and grown a dedicated, passionate global community of travellers. You'll also find our content online, on mobile, video and in 14 languages, 12 international magazines, armchair and lifestyle books, eBooks, and more.