The Unofficial Harry Potter Character Compendium: MuggleNet's Ultimate Guide to Who's Who in the Wizarding World (The Unofficial Harry Potter Reference Library) (Hardcover)
We will be closed on Saturday, July 4th in observance of Independence Day.
We are available Monday to Saturday 10:00 a.m. to 4:00 p.m. for Limited Browsing, Order Pickup, Phone Orders, and Contactless Parking Lot Pickup. Order online 24 hours a day.
**Free Local Area Delivery on Tuesday and Friday**
*USPS shipping is taking up to 2-3 weeks instead of 2-7 days, please consider contactless Parking Lot Pickup if you are in the area.
Please Note: Many of the high demand books that say 'On our Shelves Now' are on hold for other customers. We are hoping that they will be back in stock at the warehouse around the middle of June. Thank you for your patience.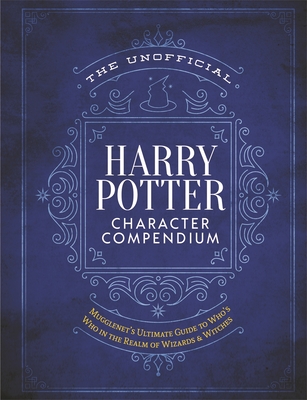 List Price: $16.99
Our Price: $15.29
(Save: $1.70 10%)
Description
---
From Harry, himself, to Sir Cadogan, the living portrait, this massive tome details every character created by J.K. Rowling and appearing in the official Harry Potter canon of books, movies and plays.

Each entry will highlight one character, with some entries making up a half page, while others might take up a full spread. Readers will find details of when the character was first mentioned, appearance, wizard school, house, patronus, wand, related family members, skills and achievements, personal history and more! With more than 700 characters included, this book is packed from cover to cover.

The book will also include genealogical charts and family trees for the major characters, world maps detailing important locations, homes and schools, as well as charts detailing alliances between characters.

The content is compiled by the editors of MuggleNet.com, the #1 Wizarding World resource since 1999.
About the Author
---
MuggleNet.com, the #1 Wizarding World resource since 1999, is dedicated to honoring the magic of the wizarding world by providing reliable, fun, informative content to our readers. The site is run by Wizarding World aficionados who are passionate about making MuggleNet the best it can be. We pride ourselves on our diverse group of 100+ global volunteers, ranging in age from 15 to 55.