The Complete Summer Cookbook: Beat the Heat with 500 Recipes that Make the Most of Summer's Bounty (Paperback)
We are available Monday to Saturday 10:00 a.m. to 5:00 p.m. for Limited Browsing, Order Pickup, Phone Orders, and Contactless Parking Lot Pickup. Order online 24 hours a day.
**Free Local Area Delivery on Tuesday and Friday**
Please Note: Many of the high demand books that say 'On our Shelves Now' are on hold for other customers. You can place an order and we will let you know when they come back in stock. Thank you for your patience.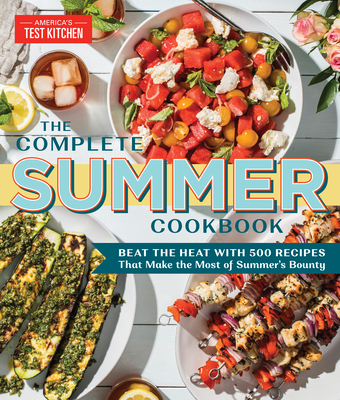 List Price: $32.99
Our Price: $29.69
(Save: $3.30 10%)
Description
---
The only cookbook you'll need during the year's warmest months

A hot day and hanging over your stove were never meant to be. When fresh produce beckons but you haven't much energy to respond, these recipes help you settle into a more relaxed kind of cooking designed to keep you and your kitchen cool. Untether yourself from the oven with make-ahead meals best served cold (or at room temp), like Poached Salmon with Cucumber and Tomato salad and Tzatziki. Fix-and-forget recipes like North Carolina-Style Pulled Pork made in the electric pressure cooker won't steam up the kitchen. Equally easy are dinner salads; we've got enough to keep them interesting and varied, from Shrimp and White Bean Salad with Garlic Toasts to Grilled Caesar Salad. Barely more effort are fresh summer recipes requiring the briefest stint in a pan, such as Beet and Carrot Noodle Salad with Chicken or Braised Striped Bass with Zucchini and Tomatoes.

Ready to take the party outside? You'll find all you need for casual patio meals prepared entirely on the grill (from meat to veggies, even pizza). Throw a fantastic cookout with easy starters, frosty drinks, and picnic must-haves like Picnic Fried Chicken, Classic Potato Salad, and Buttermilk Coleslaw. Visited the farmers' market? Find ideas for main dishes as well as sides inspired by the seasonal bounty, plus the best fruit desserts worth turning on the oven for. To end your meal on a cooler note, turn to a chapter of icebox desserts and no-bake sweets.
About the Author
---
America's Test Kitchen is well-known for its top-rated television shows with more than 4 million weekly public television viewers, bestselling cookbooks, magazines, websites, and cooking school. The highly reputable and recognizable brands of America's Test Kitchen, Cook's Illustrated, and Cook's Country are the work of over 60 passionate chefs based in Boston, Massachusetts, who put ingredients, cookware, equipment, and recipes through objective, rigorous testing to identify the very best. Discover, learn, and expand your cooking repertoire with Julia Collin Davison, Bridget Lancaster, Jack Bishop, Dan Souza, Lisa McManus, Tucker Shaw, Bryan Roof, and our fabulous team of test cooks!