Flight of the Bluebird (Unintentional Adventures of the Bland Sisters #3) (MP3 CD)
Given the increased rate of COVID-19 transmission in RI, we encourage you to wear your mask regardless of your vaccination status. Thank you!
Monday to Thursday 10AM to 7PM--Friday & Saturday 10AM to 8PM
--Now Open 10AM to 6PM on Sunday! **Order online any time.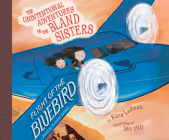 $29.99

Sold Out--Can order from warehouse
Description
---
After returning to their home in Dullsville and finding it in absolute shambles, Jaundice and Kale Bland are rescued by high-flying aviatrix Beatrix Airdale. This time, theyΓ re jetting off (literally) to Egypt to uncover the mysteries of a magical scarab. By way of Casablanca, and after foiling multiple attacks along the way (thanks to JaundiceΓ 's nautical knot-tying skills and KaleΓ 's super-sleuth powers of observation), the Bland Sisters are reunited with their parents. But it turns out that Mom and Dad arenΓ t as blandΓ or as BlandΓ as Jaundice and Kale remember. Thanks to their motherΓ 's old archaeology notebook, the Bland Sisters uncover their parentsΓ real identities and help them achieve victory in one final family-filled adventure.