A Winter's Promise (Compact Disc)
We strongly encourage all customers to wear a mask regardless of vaccination status. Masks are required for unvaccinated adults. Thank you!
Monday to Thursday 10AM to 7PM--Friday & Saturday 10AM to 8PM
--Open 11AM to 5PM on Sunday **Order online any time.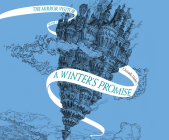 $39.99

Hard to Find - Unable to Order
Staff Reviews
---
"I am obsessed with this series.  Send Help!  I read the first two books in this series in two days, and this is the third book in the series.  If you love fantasy, world building (think Harry Potter, Howl's Moving Castle, Philip Pullman), and slow-burn romance, then pick this up!"--Reviewed by Cristina
Description
---
Plain-spoken, headstrong Ophelia cares little about appearances. Her ability to read the past of objects is unmatched in all of Anima, and, what's more, she possesses the ability to travel through mirrors, a skill passed down to her from previous generations. Her idyllic life is disrupted, however, when she is promised in marriage to Thorn, a taciturn and influential member of a distant clan. She must leave all she knows behind and follow her fianc to Citaceleste, the capital of a cold, icy ark known as the Pole, where danger lurks around every corner and nobody can be trusted. There, in the presence of her inscrutable future husband, she slowly realizes that she is a pawn in a political game that will have far-reaching ramifications not only for her but for her entire world.