The Mueller Report (Paperback)
We will be closed on Saturday, July 4th in observance of Independence Day.
We are available Monday to Saturday 10:00 a.m. to 4:00 p.m. for Limited Browsing, Order Pickup, Phone Orders, and Contactless Parking Lot Pickup. Order online 24 hours a day.
**Free Local Area Delivery on Tuesday and Friday**
*USPS shipping is taking up to 2-3 weeks instead of 2-7 days, please consider contactless Parking Lot Pickup if you are in the area.
Please Note: Many of the high demand books that say 'On our Shelves Now' are on hold for other customers. We are hoping that they will be back in stock at the warehouse around the middle of June. Thank you for your patience.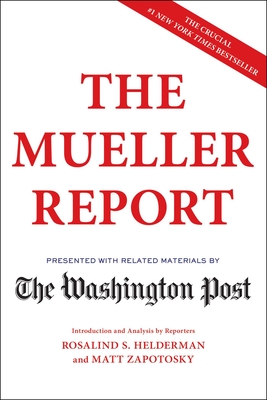 List Price: $15.00
Our Price: $13.50
(Save: $1.50 10%)
Sold Out--Can order from warehouse
Description
---
ONE OF TIME'S 100 BEST BOOKS OF THE YEAR

The Crucial #1 New York Times Bestseller

"The Mueller report is that rare Washington tell-all that surpasses its pre-publication hype…the best book by far on the workings of the Trump presidency." —Carlos Lozada, The Washington Post

The only book with exclusive analysis by the Pulitzer Prize–winning staff of The Washington Post, and the most complete and authoritative available.

Read the findings of the Special Counsel's investigation into Russian interference in the 2016 election, complete with accompanying analysis by the Post reporters who've covered the story from the beginning.

This edition from The Washington Post/Scribner contains:

—The long-awaited Report On The Investigation Into Russian Interference In The 2016 Presidential Election

—An introduction by The Washington Post titled "A President, a Prosecutor, and the Protection of American Democracy"

—A timeline of the major events of the Special Counsel's investigation from May 2017, when Robert Mueller was appointed, to the report's delivery

—A guide to individuals involved, including in the Special Counsel's Office, the Department of Justice, the FBI, the Trump Campaign, the White House, the Trump legal defense team, and the Russians

—Key documents in the Special Counsel's investigation, including filings pertaining to General Michael T. Flynn, Paul Manafort, Michael Cohen, Roger Stone, and the Russian internet operation in St. Petersburg. Each document is introduced and explained by Washington Post reporters.

One of the most urgent and important investigations ever conducted, the Mueller inquiry focuses on Donald Trump, his presidential campaign, and Russian interference in the 2016 election, and draws on the testimony of dozens of witnesses and the work of some of the country's most seasoned prosecutors.

The special counsel's investigation looms as a turning point in American history. The Mueller Report is essential reading for all citizens concerned about the fate of the presidency and the future of our democracy.
About the Author
---
The Washington Post has built an unparalleled reputation in its coverage of American politics and related topics. The paper's circulation, prominence, and influence continue to grow.


Praise For…
---
"The Mueller report is that rare Washington tell-all that surpasses its pre-publication hype…the best book by far on the workings of the Trump presidency. It was delivered to the attorney general but is also written for history. The book reveals the president in all his impulsiveness, insecurity and growing disregard for rules and norms; White House aides alternating between deference to the man and defiance of his 'crazy s---' requests; and a campaign team too inept to realize, or too reckless to care, when they might have been bending the law. And special counsel Robert Mueller has it all under oath, on the record, along with interviews and contemporaneous notes backing it up." —Carlos Lozada, The Washington Post

"This is a document that, like the Badlands National Park, one has to visit for oneself. If you rely on the velvet fog of Attorney General William Barr's Cliffs Notes, you will get an 'F' on the exam… So much of what's in the Mueller report is already known, thanks to what never again should be referred to as 'fake news,' that reading it is like consuming a short story collection that's already been excerpted in every magazine you subscribe to. But its two volumes nonetheless have the power to shock and appall." —Dwight Garner, The New York Times

"It's amazing how many journalistic stories derided as 'fake news' over the past few years now re-appear in Mueller's recounting — only this time as documented evidence…. Mueller's contribution to the literature of this period in history will have an expanding readership in the immediate future as well." —NPR

"The Mueller report, Olympian and meticulous, feels like an attempt to wrest back our government on behalf not just of real lawyers but of reality itself." —Laura Miller, Slate