Unorthodox: The Scandalous Rejection of My Hasidic Roots (Paperback)
*USPS shipping is taking up to 2-3 weeks instead of 2-7 days, please consider contactless Parking Lot Pickup if you are in the area.
Please Note: Most of the anti-racism books that say 'on our shelves now' are on hold already for customers. We are hoping that they will be back in stock at the warehouse around the middle of June. Thank you for your patience.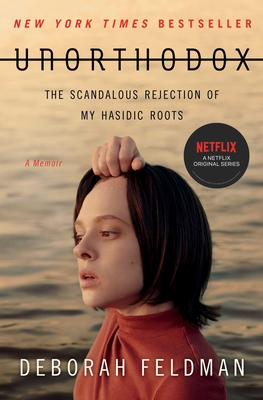 List Price: $17.00
Our Price: $15.30
(Save: $1.70 10%)
Description
---
Now a Netflix original series!

Unorthodox is the bestselling memoir of a young Jewish woman's escape from a religious sect, in the tradition of Ayaan Hirsi Ali's Infidel and Carolyn Jessop's Escape, featuring a new epilogue by the author.

As a member of the strictly religious Satmar sect of Hasidic Judaism, Deborah Feldman grew up under a code of relentlessly enforced customs governing everything from what she could wear and to whom she could speak to what she was allowed to read. Yet in spite of her repressive upbringing, Deborah grew into an independent-minded young woman whose stolen moments reading about the empowered literary characters of Jane Austen and Louisa May Alcott helped her to imagine an alternative way of life among the skyscrapers of Manhattan. Trapped as a teenager in a sexually and emotionally dysfunctional marriage to a man she barely knew, the tension between Deborah's desires and her responsibilities as a good Satmar girl grew more explosive until she gave birth at nineteen and realized that, regardless of the obstacles, she would have to forge a path—for herself and her son—to happiness and freedom.

Remarkable and fascinating, this "sensitive and memorable coming-of-age story" (Pittsburgh Post-Gazette) is one you won't be able to put down.
About the Author
---
Deborah Feldman was raised in the Satmar Hasidic community in the Williamsburg section of Brooklyn, New York. She lives in Berlin with her son.
Praise For…
---
"A brave, riveting account... Unorthodox is harrowing, yet triumphant."
— Jeannette Walls, New York Times bestselling author of The Glass Castle

"A sensitive and memorable coming-of-age story... Imagine Frank McCourt as a Jewish virgin, and you've got Unorthodox in a nutshell."
— Pittsburgh Post-Gazette

"Compulsively readable, Unorthodox relates a unique coming-of-age story that manages to speak personally to anyone who has ever felt like an outsider in her own life."
— School Library Journal

"It's one of those books you can't put down."
— Joan Rivers, in The New York Post

"An unprecedented view into a Hasidic community that few outsiders ever experience."
— Minneapolis Star-Tribune

"[Feldman's] matter-of-fact style masks some penetrating insights."
— The New York Times

"Eloquent, appealing, and just emotional enough... No doubt girls all over Brooklyn are buying this book, hiding it under their mattresses, reading it after lights out—and contemplating, perhaps for the first time, their own escape."
— The Huffington Post

"Riveting... extraordinary."
— Marie Claire