My Eyes Are Up Here (Hardcover)
We are available Monday to Saturday 10:00 a.m. to 5:00 p.m. for Limited Browsing, Order Pickup, Phone Orders, and Contactless Parking Lot Pickup. Order online 24 hours a day.
**Free Local Area Delivery on Tuesday and Friday**
*USPS shipping is taking up to 2-3 weeks instead of 2-7 days, please consider contactless Parking Lot Pickup if you are in the area.
Please Note: Many of the high demand books that say 'On our Shelves Now' are on hold for other customers. We are hoping that they will be back in stock at the warehouse around the middle of June. Thank you for your patience.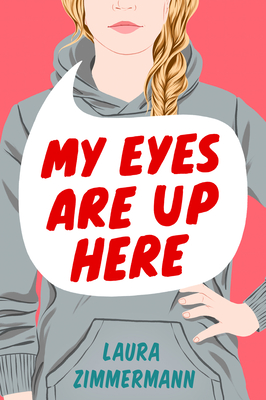 List Price: $17.99
Our Price: $16.19
(Save: $1.80 10%)
Description
---
My Eyes Are Up Here is a razor-sharp debut about a girl struggling to rediscover her sense of self in the year after her body decided to change all the rules.

If Greer Walsh could only live inside her head, life would be easier. She'd be able to focus on excelling at math or negotiating peace talks between her best friend and . . . everyone else. She wouldn't spend any time worrying about being the only Kennedy High student whose breasts are bigger than her head.

But you can't play volleyball inside your head. Or go to the pool. Or have confusingly date-like encounters with the charming new boy. You need an actual body for all of those things. And Greer is entirely uncomfortable in hers.

Hilarious and heartbreakingly honest, My Eyes Are Up Here is a story of awkwardness and ferocity, of imaginary butterflies and rock-solid friends. It's the story of a girl finding her way out of her oversized sweatshirt and back into the real world.
About the Author
---
Laura Zimmermann is a multiple-time champion of the Twin Cities Moth and Word Sprout story slams, and she was chosen to participate in the 2018 Listen To Your Mother storytelling show. She lives with her family in Minneapolis, MN. My Eyes Are Up Here is her first novel.
Praise For…
---
"Charming, relatable and laugh-out-loud hilarious, My Eyes Are Up Here is a sparkling debut from my new favorite YA author, Laura Zimmermann. Her Greer Walsh is at once all of us and the most special of us. I wanted to hug her, give her a high five and sometimes throttle her, but I always, always rooted for her."—Erin Hahn, author of You'd Be Mine and More Than Maybe

"My Eyes Are Up Here is not only a smart and honest book about body positivity. It's a funny and endearing read that will have you cheering for Greer Walsh, and celebrating the power of female friendship."—Deb Caletti, National Book Award finalist and Michael L. Printz Honor medalist

"By turns hilarious, heartbreaking and totally, completely honest, perfect for those who liked recent novels like Frankly in Love."--Culturess.com

★ "Wise and wry... An original, feminist, and timely first choice title for all libraries."—SLJ, starred review

"Zimmermann's debut is both insightful and humorous, owing to a bright and funny yet self-deprecating narrator matched with brief chapters that capture Greer's urgencies and insecurities. Girls who lament not having the perfect body will appreciate this novel, and girls who value their best friends will relate without hesitation. Rise up for girl power!" —Booklist 

"Many girls will resonate with this story of trying to learn to love your body and be comfortable with the skin you're in. We are both so glad that this book exists and it brought about a lot of important, meaningful dialogue for us both. Highly recommended."—SLJ's Teen Librarian Toolbox