The Ultimate Book of Origami Animals: Easy-To-Fold Paper Animals [includes 120 Models; Eye Stickers] (Paperback)
We are available Monday to Saturday 10:00 a.m. to 5:00 p.m. for Limited Browsing, Order Pickup, Phone Orders, and Contactless Parking Lot Pickup. Order online 24 hours a day.
**Free Local Area Delivery on Tuesday and Friday**
*USPS shipping is taking up to 2-3 weeks instead of 2-7 days, please consider contactless Parking Lot Pickup if you are in the area.
Please Note: Many of the high demand books that say 'On our Shelves Now' are on hold for other customers. We are hoping that they will be back in stock at the warehouse around the middle of June. Thank you for your patience.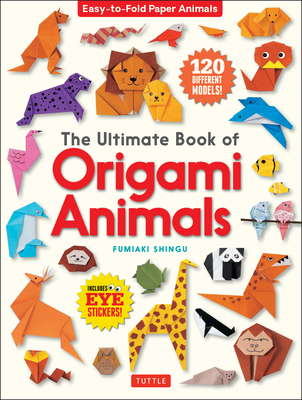 List Price: $14.99
Our Price: $13.49
(Save: $1.50 10%)
Description
---
Fold your favorite origami animals--from cute Panda Cubs, Kittens and Penguins to the menacing Great White Shark and Tyrannosaurus Rex.
The step-by-step instructions in this book show you how to fold 120 amazing animal origami models. Once you're done folding them, you can decorate your creations with eye stickers to create a truly lifelike collection of creatures.
The following are just a few of the unique origami projects your whole family will enjoy creating with this book:
Three different kinds of cuddly Dogs and Cats
A pride of Lions
A floppy-eared Elephant, complete with pleated trunk and pile of poop
A spiny-but-cute Porcupine--watch your fingers
A sleepy-eyed Sloth--hang him upside down for a nap
A Panda parent and baby--including bamboo to munch on
A playful Otter with her fishy snack
A friendly Flying Squirrel
An adorable pair of Bunnies, complete with crunchy Carrots
Snakes, Lizards, Sharks, Crustaceans, Primates, Dinosaurs, and so much more
The folded animal projects range from easy to challenging, and each one is clearly labeled with the difficulty level. Start with simple models and move on to the intermediate and challenging animals as your build your origami skills Japanese author Fumiaki Shingu is one of the world's leading origami experts, having published over 20 books on the subject. Fumiaki is an avid proponent of the art of origami in Japan, and he specializes in creating fun and easy-to-fold original origami models.
About the Author
---
Fumiaki Shingu founded his graphic design company City Plan Co., Ltd. in Tokyo in 1984. His popular artwork has sold in a variety of retail settings, from Toys "R" Us to Loft, and he has clients from New York to Paris. In 1998, Fumiaki started producing works featuring origami. Fumiaki went on to create Origami Club (www.origami-club.com), a website where he shares his love of origami and offers instructions for origami projects. He has written dozens of books on origami in Japanese.