Opposite Surprise (Board book)
*USPS shipping is taking up to 2-3 weeks instead of 2-7 days, please consider contactless Parking Lot Pickup if you are in the area.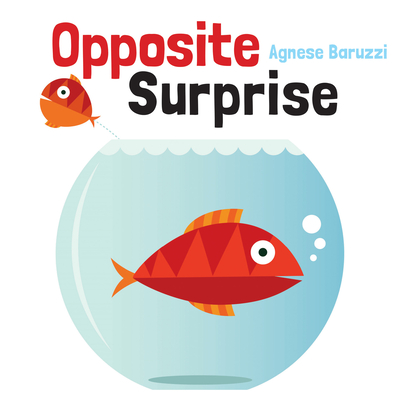 List Price: $12.99
Our Price: $11.69
(Save: $1.30 10%)
Description
---
Everyone knows the sun is hot. But open the flaps in this book and you may find a chilly surprise instead! Each spread of this cleverly designed board book reveals a surprising opposite that makes for a truly original way for toddlers to learn about words and concepts. Whether it be hot or cold, clean or dirty, slow or fast, this book has you covered—at least until you open the flaps.
About the Author
---
Agnese Baruzzi, a graduate of the ISIA in Urbino in 2004, currently lives in Bologna, Italy. She is the author and illustrator of many books for children, including Aladdin, Count!, Opposites, The True Story of Little Red Riding Hood and Who's Hiding?
Praise For…
---
"Cybils finalist Agnese Baruzzi is back with another fun fold-out board book, this one teaching opposites . . . . A clever concept, well-executed. We will be putting two copies in our collection!" —Ami Segna, amomssparetime.blogspot.com
"Agnese Baruzzi's unique concept books goes beyond the usual clear-cut definitions of opposites to present a new way of looking at and interacting with the world. Her smart, colorful illustrations invite little readers to answer not only the prompted question, but to explore further . . . . a fantastic baby shower or new baby gift; a wonderful take-along for car rides, outings, or wait times; and an excellent addition to toddler's bookshelves as well as library and classroom collections." —celebratepicturebooks.com
"True to form, Agnese uses a fun and innovative format in this board book. Each page spread shows an illustration that appears to be one thing, but reveals the opposite when the page is unfolded. A clever and unique way to introduce opposites." —Clarissa, booknerdmommy.com
"15 Fantastic Board Books for Ages 0 – 3 Years Old (2017). Surprises are the best, and you'll find tons in this fun unfold the flap book. Unfold to discover that your first guess to the question (small or big?) isn't quite right. Maybe it looks small but unfold and it's something big. Lots of fun here!" —imaginationsoup.net
"Another fun fold-out board book, this one teaching opposites. A clever concept, well-executed. We will be putting two copies in our collection." —amomssparetime.blogspot.com
"A guessing game about opposites in a cleverly designed board book that epitomizes the maxim 'show, don't tell.' The rather abstract concept of opposites is successfully demonstrated in Baruzzi's whimsical, graphically flat cartoon illustrations . . . . This deceptively simple concept book is the opposite of confusing." —Kirkus Reviews
"Children are going to love this clever interactive title. It allows them to explore opposites for themselves through a question and answer format, and it has pages that fold out with bright and colorful illustrations." —Marya Jansen-Gruber, lookingglassreview.com
"Opposite Surprise by Agnese Baruzzi is a book with flaps that reveals the surprising opposites of words and phrases." —Lee Littlewood, Kids Home Library
"Inspired . . . . Vibrant colors, simple objects, and an imaginative premise combine for a thought-provoking experience." —School Library Journal
"The youngest readers will delight in the unexpected in Italian illustrator Agnese Baruzzi's charming, interactive Opposite Surprise . . . .Tots will not only begin to grasp the concept of opposites; they will have a glimpse into a (friendly) world where what you see might not be what you get. This bright, cheerful board book will surprise young readers with fold-out illustrations that are the opposite of what they first seemed." —Shelf Awareness